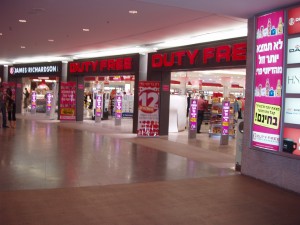 The only store in Ben Gurion Airport (TLV) that did not buy or sell any chometz over Pesach and has properly sold their chometz for 2014 is the James Richardson Store at Gate D7, according to the CRC. (via Kashrut.com)
According to JerusalemKosherNews:
…this is the same information received in the past from the rav of the airport, Rabbi Nissim Elmaliach. Unlike duty free shops in other countries, these shops are owned by Jews, so therefore the sale of chametz on Pesach is pertinent.

Rabbi Elmaliach has also explained that the store at Gate D7 works with a system permitting him to monitor all incoming merchandise to eliminate concerns.