A churro, sometimes referred to as a Spanish doughnut, is a fried-dough pastry  based snack popular in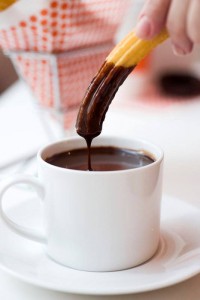 Spain, France and Latin America. New Yorkers have long seen them being sold in Washington Heights, and in many subway stations, albeit never kosher.
They are usually eaten for breakfast and dipped in either hot chocolate or "cafe con leche" (coffee with milk.) I first discovered them on the B & Q trains' platform at the Atlantic Avenue-Barclays Center station in Brooklyn, where a Mexican woman would stand with her cart and sell them daily. I always wondered what they were, but didn't dare try one of these "long doughnut sticks" that she had probably baked in her treif kitchen.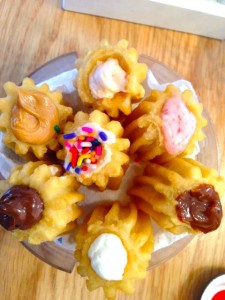 Well, like many other previously forbidden foods, Jews can now enjoy churros at the newly kosher Le Churro on the Upper East Side in Manhattan. Le Churro's menu features many different sizes of churros, churro sundaes, churro pizza, coffee, espresso, and a chocolate bar.
If your pants weren't tight enough from all these 3 day chagim we just had, they are about to get even tighter!
Le Churro is under the kashrus supervision of Rabbi Aaron D. Mehlman of National Kosher Supervision.