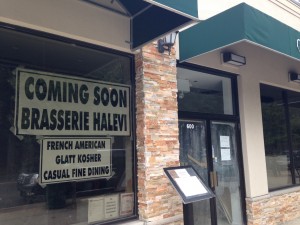 Much to the excitement of many, the Five Towns will soon be home to yet another kosher restaurant! Brasserie HaLevi, a new restaurant on Central Avenue, will have gourmet American cuisine with a French influence and is set to open this September 2013, replacing Off The Grill which previously occupied that large space.
Their menu will feature Coq Au Vin, a 16 oz. ribeye steak, short ribs, a pulled brisket sandwich, quinoa salad, and pappardelle among many other mouth-watering sounding items.
Brasserie HaLevi will be under the kashrus supervision of the Va'ad of the Five Towns.
Check back here for more information once they open!