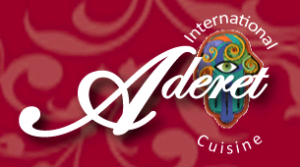 Post by Yosef Silver

With weather delaying my flight into Dallas, my first meal at Aderet was take-out.  I called as I waited for my rental car and asked for a recommendation and was very happy with the kebabs, rice, salad and hummus that I received.  The service impressed me much more than the restaurant's website that had me second guessing dining here, and after that first dinner, I saw no need to look elsewhere for lunch or dinner the following day.
It's easy to overcook a kebab or serve dry, flavorless rice but the standard of flavor at Aderet is high.   The rice was lightly seasoned and the kebab was cooked to perfection, moist and flavorful beef, and a portion large enough to satisfy a weary traveller who had been delayed al day.  This meal was Israeli comfort food, straight from Savta's recipe book!
To compliment hummus made by anyone else is a big deal (I'm a hummus aficionado).  The hummus served a Aderet is creamy, light and full of flavor, and for just $2 for a side portion, you really can afford to add it to you already affordable dining experience.  Main courses start at $9 and with the exception of their steak, most main dishes are around $14 a plate and include rice or fries and a salad.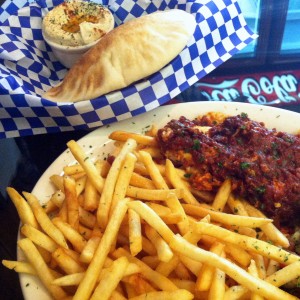 Returning for lunch, my friend and I shared an order of shnitzelonim (chicken nuggets) which were crunchy on the outside without sacrificing flavor or texture on the inside.  Their homemade schug  tastes of the fresh ingredients used to make it.  My main dish was a the fajitas made with a mix of chicken and beef, with guacamole like none I have ever tasted before. I've never had a fajita before today but the bar has been set very high for whoever serves me my next!
Knowing my flight out of Dallas was significantly delayed, I returned one final time for dinner and opted for the Israeli classic, shakshuka. The flavor was one that I haven't tasted since I was last in Jerusalem, and the side of hummus and Israeli completed the meal. The shakshuka's texture was just right and there was
The portions are generous, after all, it is Texas.  The main dish is ample and the side dishes of rice or fries seem disproportionality large — good for the hungry diner, bad if you want to avoid the temptation of carbs!!
All in all, if you are visiting Dallas for business or pleasure, whether you are  a kosher diner or not, Aderet is a must-stop venue for 
traditional Israeli food
. Their
website
needs some work and is a  little off-putting so my lesson is not to judge the book by it's cover.
Aderet is under the Dallas Kosher Certification and also has a special Shabbat menu.
View Larger Map
The author of this post writes the Kosher food blog:
This American Bite