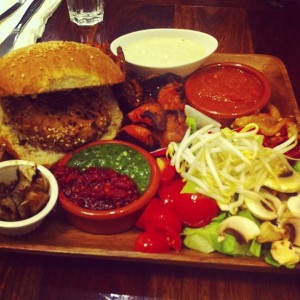 If you're a kosher traveler arriving to Jerusalem, you've pretty much arrived at kosher food mecca. It's no surprise that finding kosher food in the holy city is as likely as bumping into your childhood friend on Ben Yehuda St. But what if you have more than one dietary restriction, like being a vegetarian?
While most "dairy" restaurants would be a suitable option for vegetarians, the specific vegetarian or vegan restaurants tend to be a bit more creative than salad and pasta. More recently, veganism has caught wind in Israel, thanks to a certain Gary Yourofsky.
So here's a list of where the wandering kosher vegetarian can find the best eats in Jerusalem, Be'teavon! (Scroll down for a map of the restaurants)
If you're looking a wide variety of options, you'll be sure to find it here. With a hot and cold buffet as well as a regular menu, you won't go home unsatisfied. You'll find everything from tofu burgers, baked sweet potato fries, and stir fried seitan to stuffed vegetables, lasagna and organic rye bread. The Village Green is your go-to kosher and vegetarian eatery in Jerusalem.
02-625-3065
Remember the soup nazi episode from Seinfeld? While you will find interesting and delicious soups at the Marakia, the atmosphere is much more relaxed. With live bands, beers on tap and a cozy décor- the Marakia is usually packed. Get there earl
y (they open at 5:30pm Sun-Thurs) and warm up to some lentil, sweet potato or another delectable soups with a side of hearty bread, butter and pesto.
02-625-7797
As one of the oldest vegetarian restaurants in Jerusalem and located in the beautiful Yemin Moshe neighborhood- Te'enim- meaning 'figs'- should be on your list of places to visit. With views of the Old City and dishes like grilled red pepper and goat cheese, this place will quickly become one of your favorites in town.
02-625-1967
You wouldn't really expect Indian food in Israel to be that good, given that Thai and Chinese are pretty much expensive failures. But if you decide to check out Itchigidanna, a small Indian restaurant located on a side alley in the shuk (i.e. Mahane Yehuda)- you won't be disappointed. They do Indian food with a laid back attitude and very friendly waiters. Kosher? Vegetarian? Indian? Awesome? Check, check, check, check.
050-224-7070 

---
Anabelle Harari is an organic food blogger based in Jerusalem, Israel and the Community Attaché for Israel Experts Birthright Israel division. You can connect with her on twitter @thelocalbelle.

View Kosher Veggie Jerusalem in a larger map