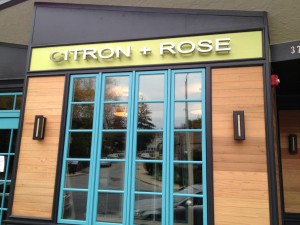 Post By George Medovoy
;
Star Chef Michael Solomonov of Philadelphia will open Citron and Rose on November 7th, a new glatt kosher restaurant, in Bala Cynwyd, Pennsylvania this fall on the Main Line outside of Philly.
;
Solomonov, the 33-year-old winner of the 2011 James Beard Award for Best Chef Mid-Atlantic, went restaurant hopping in Paris and Budapest to check out the kosher food scene there in anticipation of the restaurant's opening.
;
Born in Ganei Yehuda, Israel, Solomonov grew up in Pittsburg, with intervals in Israel. Zahav, which is his non-kosher Israeli restaurant, has taken Philadelphia by storm.
;
Citron and Rose Restaurant and a full-service catering company will feature an open kitchen with a chef's counter, seating for up to 60 guests, and a dark wood-marble topped bar, where guests will be able to order from an all-kosher cocktail, wine and beer list.
;
The restaurant will be open for dinner Sunday through Thursday and closed on Friday and Saturday for Shabbat.
;
Its owner is David Magerman, a food enthusiast and philanthropist, who created the Kohelet Foundation to support Jewish day school education in Philadelphia and across the United States.
;
According to plans recently released, Solomonov's menu will feature meat cooked over a charcoal rotisserie grill, house-made Jewish charcuterie, an assortment of traditional pickles, vegetable dishes and salads, and freshly-baked breads and desserts.
;
The level of Citron and Rose, the chef explained, is "going to be higher than most people are used to."
;
"It's going to be something unique and something special," he said," and obviously personal to us as well, being Jews."
;
I got a sense of Solomonov's enthusiasm for Citron and Rose when he described his kosher tastings in Paris and Budapest as "incredibly inspiring and delicious."
;
For example, when he visited Osmose Restaurant in Paris, his serving of chicken liver with a balsamic gelee was "like out of this world."
;
While in Paris, he also "hit a bunch of charcuterie places in the Marais," (the traditional Jewish area of Paris), where a corned tongue dish was "so, so good," as was a veal breast "cured like bacon."
;
What also impressed Solomonov about the Paris kosher food scene was the sheer variety of items in butcher shops, where, for example, he found that you could choose from "30 different salamis."
;
In Budapest, at a restaurant called Rosenstein, Solomonov tasted "the best matzo ball soup by far that I've ever had in my life," and then there was an "unbelievable" Shabbat lunch at a private home.
;
Before his European trip, the innovative chef also visited Montreal, a city rich in immigrant influences, for a sense of the Romanian-Jewish food trail there.
;
No matter where one looks, he emphasized, the cuisine of earlier Jewish generations "is incredible, and it's just as diverse as anything else…"
;
But, Solomonov added, much of it is "sort of lost."
;
And so we await the opening of Citron and Rose, when this wonderful cuisine will take center stage.
;
(Citron and Rose will be located at 368-370 Montgomery Avenue in Merion).