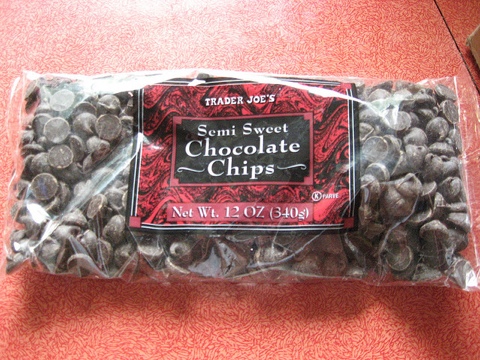 UPDATE: The OK published an update that confirms our info below. Click here to read their announcement.
There has been a lot of confusion and mixed messages regarding the recent announcement of Trader Joes chocolate chips becoming OK-D, i.e. no longer pareve.
Originally, when we asked the OK (on Twitter), we received notification that the product itself was not dairy, implying that this was merely "DE", or Dairy Equipment, which is still not the same as pareve, but can be eaten after a meat meal (like Oreos – which are pareve/DE), except by those that only eat Chalav Yisroel.
Hearing reports from others who spoke to the OK, we called them for clarification. The official response from the OK is that the message we and others received on Twitter was a mistake. The product line that manufacturers the pareve chocolate chips for Trader Joes also does dairy chocolate chips (non Chalav Yisroel), and neither Trader Joes, nor the OK, can guarantee that there will not be dairy chips getting into the bags of the pareve chips.
Thus, it is entirely possible that the bag of non-dairy Trader Joes chocolate chips actually has some, albeit few, dairy chips in the bag as well, or none at all, hence the OK-D symbol.
I hope this clears up the situation, although I know this is not a satisfactory answer for many, especially those who bake with this product regularly or whom only eat Cholov Yisrael.
If you'd like to protest Trader Joes' decision to change this product, you can sign this following online petition.
Shabbat Shalom.
-Dani