Review submitted by Simone Somekh from Milan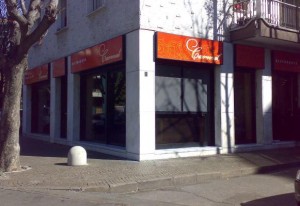 How many times, eating pizza in the USA, have we wondered how does the original Italian one actually taste? Thanks to Carmel, the best kosher pizzeria in Milan, Italy, now we won't have to daydream anymore. Carmel is a well presented restaurant in the Jewish area of the famous fashion capital; the prices are slightly higher than the ones Americans are used to when it comes to a common dish as pizza, but trust me, it's worth every single euro.
Carmel's pizza is thin, crisp and healthy. In fact, it is completely different to what you had before, thanks to the genuine ingredients – fresh tomatoes and vegetables, and, above all, Italian soft and watery cheese Mozzarella. Still, if you happen there, don't hesitate to explore Carmel's rich dairy menu: one of its highlights is their Ravioli alla Parmigiana, fresh raviolis filled with eggplants and cheese served in a light pink sauce.
Great for a quick lunch or for a warm dinner with friends, Carmel is a good choice for a dairy meal in northern Italy.
View Larger Map