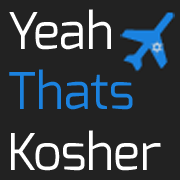 Adding informative and relevant content to YeahThatsKosher.com has become more work than a person can handle singularly. The importance of keeping this site strong for the Kosher observant Jewish community drives us to seek a Web Content Coordinator to assist in finding leads, writing, and posting relevant content for our community.
Candidates should have strong English writing skills, know how to use Google to find *anything*, and should have an understanding of the laws of Kashrut / Keeping Kosher. Candidates should be passionate about writing, the web, and assisting the Jewish community. Existing knowledge of using WordPress and passion for travel are considered a plus.
The Web Content Coordinator position is an unpaid position (internship), with a potential paid position in the future. The coordinator will work directly with the Founder and Editor of YeahThatsKosher.com, Dani Klein, who is a Digital Marketing professional running Social Media operations for a large travel company, with an MBA in Marketing. On the job, the coordinator will learn many best practices regarding digital content/media, writing, blogging, WordPress, and leveraging social media.
Responsibilities will include finding relevant news stories and writing short posts for the blog, editing or updating existing posts, as well as working with blog sponsors (existing and potential).
Candidate can work from home and must have regular access to high speed internet.
If you are interested, please email your resume and a short cover letter to: Dani [at] YeahThatsKosher.com. Feel free to tweet any questions to @YeahThatsKosher.