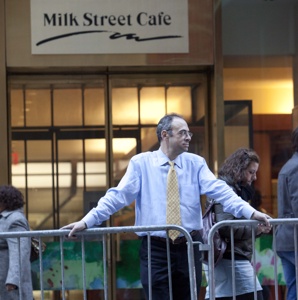 Over the past few months, businesses downtown have been hit hard by a combination of Occupy Wall Street protesters and subsequent NYPD barricades. Combine this with high rents in a large space, and that is likely what did in Milk Street Cafe on Wall Street, which was doing well before the September protests began. Milk Street Cafe will ultimately close this Thursday.
We reported on multiple occasions (1. Occupied by #OWS, Milk Street Cafe on Wall St. Needs Our Patronage and 2. Milk Street Cafe on the Verge of Closing on Wall Street) about this impending situation.
Ultimately, this business succumbed to the local environment not being able to support a large kosher business.
It's a sad day for us kosher observant NYers who work downtown.