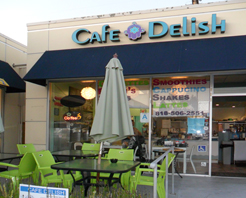 I've been eyeing this restaurant every week or so as I as pass through the neighborhood to do some shopping. A friend of mine, a Valley Village local, raved about this place, so we stopped by for lunch. I went back the next day with my husband because I was mesmerized by their ice blended drinks and paninis.
We enjoyed a breakfast panini (with eggs and cheese), a cheese pesto panini, an ice blended chocolate drink, and an ice blended vanilla drink.
What We Enjoyed: The food will blow your mind. Some how the simple ingredients Stacey uses combines with her rockin secret sauce makes the paninis amazing. She has a fantastic variety of menu options and there were many selections that sounded delicious. It's corny to say it's really "delish", but it's true. The place is tiny, but sparkling clean and she makes great use of the space.
Needs Improvement: Around lunchtime parking is a nightmare. I would suggest using the parking lot across the street by the supermarket and combining your feast with some food shopping to make it "kosher". There are 2 indoor tables that seat 2 people, so you will likely have to eat on the small patio outside. The restaurant is solely Chalav Yisroel, but Stacey offers a few packaged goods that are not, so look before you buy.
Family friendly: Not really. Kids will love the food, but there simply is not room for them here.
Prices: Very reasonable. Lunch will cost you $10-$14, she also has less expensive things like soup and frozen yogurt.
(818) 506-2551
Hashgacha: Rabbi Benzaken (Chalav Yisroel)