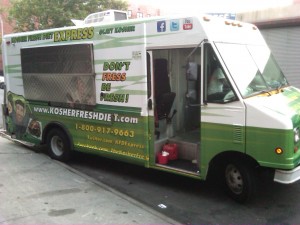 In the past month, a new Kosher Food Truck hit NYC. The former Quick Stop Kosher truck was purchased by the "Kosher Fresh Diet" and is now "The Kosher Fresh Diet Express", serving kosher observant New Yorkers.
Fare being sold includes sandwiches, wraps, salads, as well as healthy breakfast and dinner entrees, found only on The Kosher Fresh Diet meal plan. Operating and selling fresh Kosher food throughout Manhattan and parts of Brooklyn, the truck is kosher certified by the OU.
Currently their schedule is:
Monday through Friday: Corner of Hanover and Water Street (Downtown).
Sundays: No consistent location. In the past they have gone to the Metropolitan Museum of Art on 82nd and 5th, SoHo – Broadway and Prince St., as well as North Williamsburg (Brooklyn).
For specific truck locations, be sure to check their Twitter feed: @KFDExpress (although it seems that they are not consistent in posting their whereabouts).
Let us know if you've tried it and what you think.