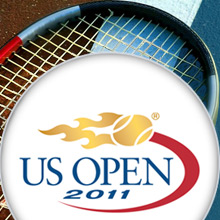 YTK covered availability of Kosher food at the US Tennis Open yesterday. I had a related experience courtesy of Starwood Hotels "SPG Moments" program.
Here's the background… Starwood Hotels manages one of most flexible and valuable loyalty point programs out there, Starpoints for Starwood Preferred Guests (or "SPG"). In addition to the usual like free hotel stays or air travel, they provide other innovative ways to redeem points like SPG Moments "where hard-earned Starpoints can be transformed into once-in-a-lifetime experiences." Things like going to a concert and meeting the band, getting tickets to a major sporting event in a faraway place, walking a red carpet at a movie premier, etc.
I recently redeemed points for an SPG Moments reward that includes 2 evening session Lower Promenade Tickets to the US Tennis Open in Arthur Ashe Stadium, Queens, and access to the SPG VIP Evening Reception where they will have a free bar and buffet. I emailed SPG Moments to see if they would provide Kosher food at the VIP reception. A service person quickly got back to saying she would look into it and 5 minutes later emailed me again saying they would make accommodations for me and my guest. Great service, from a great rewards program. It always pays to ask!
If you want a fast and great way to earn Starpoints,
see ThePointsGuy's blog
for a great offer, available now through August 22, 2011. If you simply want to sign up for the program, visit
SPG
.