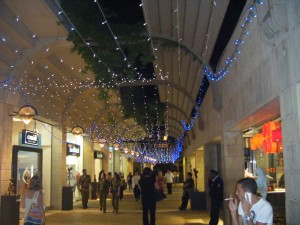 Sandwiched between the Old City, the city center, and the fancy hotel district (the area with David's Citadel, King David Hotel, and the future Waldorf Astoria) is the magnificent outdoor Mamilla Mall. Not long ago, this area was empty for decades, with nothing more than a parking lot a few years ago. Today, this thin area leading up to Jaffa Gate of the Old City is filled with fancy (often American) shops, a new mall, and thankfully – lots of places to eat – most of which are Kosher, and nearly all of them with a spectacular view of the Old City walls and Yemin Moshe.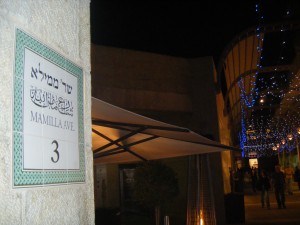 Some standout restaurants in the area include the famous Cafe Rimon (very popular with tourists – a bit overpriced if you asked me), Spaghettis – which came highly recommended by our friends on Twitter (thanks guys!), and Roladin – a bakery / restaurant which serves delicious bread, pasta, and coffee. All 3 have amazings views of the city. Other eateries include: A few eateries inside the Mamilla Hotel including Mamilla Cafe and Rooftop (which is unclear whether it is kosher or not – various websites giving conflicting reports). On Mamilla Ave (the mall) itself there's also: Cafe Aroma – a cafe chain all around Israel (not all of it's branches are kosher), Cafe Cafe – a mediocre chain of dairy restaurants in Israel (not all of it's branches are kosher), Chocolat, Kedma – a gourmet brasserie, and Mimoola – with a typical Italian menu.
Restaurant Listings with Phone Numbers: Cafe Aroma – 02-624-1367 Cafe Cafe – 02-6244773 Cafe Rimon – 02-625-2772 Chocolat – 02-563-5957 Kedma – 02-500-3737 Mimoola – 02-500-4006 Mamilla Cafe – 02-548-2230 Roladin – 02-623-1553 Rooftop – 02-548-2222 Spaghettis – 02-500-3636 In general, all of the restaurants are nice in the Mamilla area and could be suitable for a relaxing night out or a taking out a date for dinner.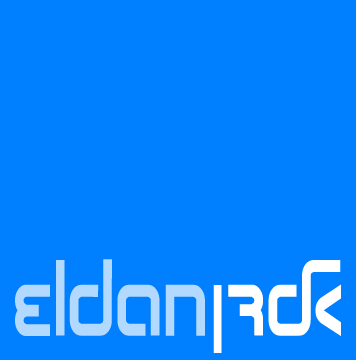 This post is sponsored by: