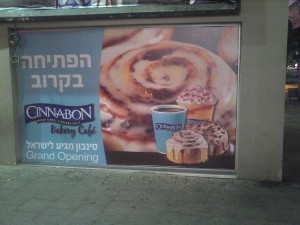 If you're like me, you drool every time you pass a Cinnabon shop in the U.S. The way those cinnamon buns smell and look make me hungry and want to skip lunch just to try them.
So we're excited to report that Cinnabon is opening a Kosher shop in Tel Aviv by Rabin Square at the corner of Ibn Gvirol st. 62and Zeitlin st.
Now … I need a kosher Cinnabon in NYC. :P
Thank you to @BenjiLovitt for the h/t.