Contributed by: Daniel Wenger | Last Date of Travel: Several visits in early 2010
Kosher Info: Not much going on here, I'm afraid. Birmingham's shining star is the Publix supermarket on Overton Road which, in addition to having a larger-than-usual Kosher section in the regular shopping aisles, has a refrigerator case of fresh meat, chicken, deli, and cheese and a small freezer box of similar items. Shabbat meals are sometimes provided by the synagogue (see Jewish Info below).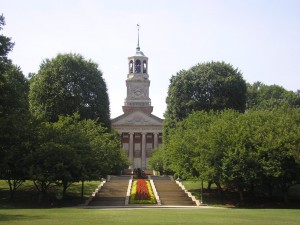 I am told that one of their nearby ice cream parlors maintais a Kosher status and that a local bakery carries Challah and other Shabbos-friendly items for the community. Other supermarkets carry a standard matza-and-gefilte-fish Kosher section, though, in addition to the Overton Road Publix, the nearby Winn Dixie has a slightly expanded section to include more Israeli products, catering, of course, to its local constituancy.
Tourist Info: The first time I saw the term 'BJCC', I thought "why would the Birmingham Jewish Community Center be hosting a Monster Truck Rally?" Ok, so the Birmingham Jefferson Convention Complex hosts a wide variety of entertaining events, and the Birmingham Business Alliance would be happy to show you what else the metro area has to offer. The Birmingham Barons AA minor league baseball team (White Sox affiliate) can provide for cheap near-field seats.
Car travel is essentially all there is.
Jewish Info: The orthodox Jewish community is located southeast of downtown (along Overton Road). Knesseth Israel claims 120 years of Jewish history in Birmingham and has recently relocated to a beautiful building with full service meat and dairy kichens. Just up the block is the Chabad of Alabama, which runs events, Minyanim, and attracts some of the local Israeli community.
This community has been struggling as time has gone on, with membership growing older and/or moving away. Minyanim are sometimes hard to come by, even on Shabbat (the constituants are mainly not Shomer Shabbat, even if they affiliate with orthodoxy). They still hang on to a community day school and, yes, there is the real Birmingham JCC.
—–
You are welcome to contact the author with further questions about the community. Contact Daniel Wenger.