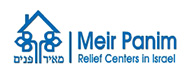 America Eats for Israel is a Tzedakah (Charity) campaign where 10% of all proceedes will go directly to the Meir Panim organization, a soup kitchen in Israel.
Meir Panim was established to offer a realistic solution to the growing poverty crisis in Israel that affects over one and a half million people across the country. Meir Panim's unwavering commitment to the people of Israel has helped bring lasting relief to the poor, encouragement for the less fortunate, new opportunities for struggling families, and hope for children-at-risk.

Meir Panim's food and social service programs help to alleviate the harmful of poverty in the short-term and provide long-term, proactive solutions to assist needy Israelis to break out of the cycle of poverty and become active, self-sufficient members of Israeli society.
America Eats for Israel is a project run by High School Students to raise money for tzedakah.
By eating at any of the participating restaurants below TODAY, you will help the poor and hungry in Israel. 10% of your meal will go to Meir Panim.
Participating Restaurants:
New York
Washington Heights:
Golan Heights
Riverdale:
Ginger Grill
Flatbush:

Sasson Grill
Cafe 16
Pizza Time
New Jersey
Teaneck:

EJ's
Chickie's
Poppie's
Mocca Bleu
Smokey Joe's BBQ Steakhouse
ETC Steakhouse
Highland Park:

Park Place
Jerusalem Pizza
Springfield:

Bagel Supreme
Livingston:

Jerusalem Pizza
Super Duper Bagels
Please let us know if you took advantage of this. Please pass this along and click "Like" at the top of this page so you can share this post with your friends.