Contributed by: Arielle Klein | Last date of Travel: May 2007
In 2007, shortly after my husband and I got married, we had a great idea to take a couples trip. We invited three of our closest couple friends and headed to Mystic / Groton (rhymes with "rotten") Connecticut. We chose Mystic because of it's charm and close proximity to both New York and Boston, where one couple was coming from. We ended up having a really great time, even if everyone but me hated the aquarium.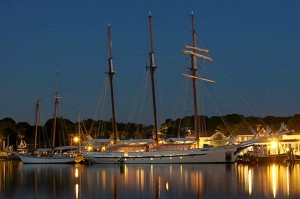 Kosher Info: There was no kosher food in Mystic that we knew of so we brought our own. We hit ShopRite right before going and bought enough food for everyone. First day lunch,everyone was on their own after that we all did communal meals. We bought hamburgers, hot dogs, buns, peanut butter and jelly,mustard, relish, ketchup, beans, and a slew of other stuff. We brought a portable barbecue and charcoal. We found local parks and with areas made for BBQs and grilled ourselves amazing meals. We also turned one car into a tailgate and made sandwiches. You can find snacks and drinks in any local place, so there's no need to bring too much other than meat/cheese, sandwich fixins and bread.
Tourist info: We started day one of the trip at the U.S. Navy and Submarine Force Museum, home of the USS Nautilus, the only nuclear submarine on display in the United States. The museum is free and really fun. We also met token Jewish Naval Officer Rob Melnick. He was so excited to meet us the first Jews he'd seen in awhile. He told us all about life in a submarine and kibitzed with us about being the token Jew in the navy. We had lunch on the pretty benches and tables overlooking the Thames river.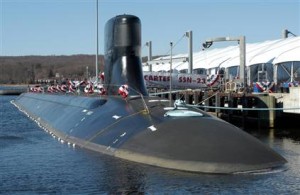 After all our underwater fun, we headed for more at the Mystic Aquarium and Institute for Exploration. Fun abounded for all with the dolphin and seal shows and many fun exhibits. I recommend the aquarium if like me you love animals, or have kids. They had a great live display where you got to pet stingrays. I chose to opt out as Steve Irwin had recently been stung in the heart by one of those bad boys, but all in all it was pretty fun. Another fun thing at the aquarium was the rock-climbing wall. For those skilled in the art of rock-climbing it's small potatoes but fun either way.
After that we find a charming bunch of shops and decided to spend a little of our time there. We found a really great toy store, where the owner showed us his bubble-sword that he recovered from Bubbledore — don't ask, we think he was high. He was an interesting character needless to say. We had delicious maple candy (made from natural maple syrup) and just enjoyed the cute kitschy stores only found in small towns.
After we found a local park to barbecue which happened to be on the beach and we had delicious burgers while watching the sunset over the beach. We headed back to our hotel, a Super 8 Motel which had great deals, and got ready to head out to Foxwoods Hotel and Casino a short drive away. Foxwoods was beautiful, but the smoke from all the cigarettes was killing me. The best part of the evening was when one of friends won $200 at the craps table and treated us all to ice cream.
The next morning we headed to the Denison Peqoutsepos Nature Center. They have a wonderful nature museum, a wetland exhibit and wildlife sanctuary with gorgeous owls. They also have a great trail that's a lot of fun to hike through. After the nature trail we found a local Memorial Day parade with the Shriners ( 90 year old men on mini-scooters) and lots of little kids, it was hilarious. We tailgated, made sandwiches and had fun watching the old men. We found a really great health food store and bought kosher organic mint imitation Oreos.
Our last stop before we headed back to NYC, was another local park where I took the liberty of laying in the fresh cut grass and feeling the sun on my face. The boys played a little frisbee and then we got the burgers and hot dogs going. It was a lovely end to a lovely trip.
Jewish Info: We did not do anything Jewish related while in Mystic/Groton. After Googling for info on "Jewish Mystic", nothing useful came up. There does not seem to be a significant Jewish population worth mentioning.
Mystic is great trip for couples or families looking for an inexpensive, fun filled vacation. Hope you have as good a time as we did.