Contributed by: Dahlia Adler Fisch | Last Date of Travel: December 2008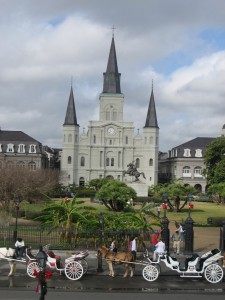 Kosher Info: New Orleans is a fantastic city for tourism; it's fascinating, inexpensive, and has a culture unlike any other. However, walking the streets of the city as a Kosher Jew can be a challenge—New Orleans is a seriously food-centric city, and Cajun food is seriously treif. Fortunately, there is a Jewish community. Unfortunately, it's primarily located in Metairie (MET-er-ee), a suburb of the city which cannot be reached on foot or by public transportation from the more popular destinations like the French Quarter. Metairie houses the eruv, the Orthodox Shul, and the only two kosher restaurants remaining in New Orleans after Hurricane Katrina. Cars or cabs are the only way to get to Metairie, and if you go the taxi route, be prepared to spend about $25 each way. If you do decide to travel to one of the restaurants, make it Casablanca, a delicious Moroccan restaurant with kitschy décor and a pleasant waitstaff. The other restaurant, Kosher Cajun, is certainly tasty, but less flashy and better suited for takeout than its competition. (For Shabbat meals, call Kosher Cajun by Thursday evening for Friday afternoon delivery—they'll even take care of the grape juice and Challah.) Thankfully, both restaurants will gladly deliver to any hotel in the French Quarter for the fee of a one-way cab fare.
Since most tourists will be spending the majority of their time in the French Quarter, it's best to be equipped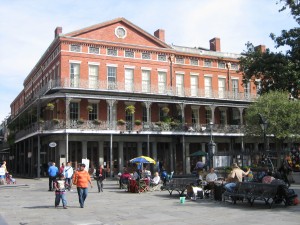 with some make-your-own-lunch staples. There are a number of Walgreens spread throughout the Quarter at which one can easily find things like peanut butter, tuna fish, and cereal; however, I strongly recommend that Kosher tourists bring their own bread, since it can be very difficult to find with a hashgacha. Truly though, the tastiest way to stave off hunger in the French Quarter is at Café Du Monde, a French Quarter landmark which sells only beignets (think Sufganiyot without the jelly), coffee, and hot chocolate, and which just became kosher in December 2008. No visit would be complete without at least one visit to this marvelous café, which is open 24/7 every day except Christmas.
Tourist Info: It's no secret that New Orleans has gone through a lot of changes in the last few years since Hurricane Katrina. However, since the French Quarter emerged relatively unscathed, and the city has been hard at work repairing itself to its formerly glory, it's almost impossible as a tourist to see any signs of the immense disaster unless you go looking for them. However, Katrina has had its effects in ways that are not blatantly obvious to non-natives, such as cutting the number of bus lines servicing the city in half. It's very important that if you purchase a guide book for New Orleans, you make sure that it is no earlier than a 2009 edition, since earlier ones can easily contain important out-of-date information.
New Orleans has lots to see and most of it is blessedly inexpensive. The French Quarter provides endless entertainment both during the day, where you can busy yourself for hours looking at art on the streets, wandering into souvenir shops, walking along the Mississippi River, having your fortune told, and taking horse-and-carriage rides, and at night, when the streets are full of natives and tourists alike, singing karaoke, listening to jazz, sporting Mardi Gras beads, and drinking on the street. (The latter is mainly on the infamous Bourbon Street; for a slightly quieter view of the beautiful Quarter at night, try the tame but beautiful Dauphine Street, one block over.) Also located in the French Quarter is the Louisiana State Museum, which is actually a collection of buildings which mainly border the beautiful Jackson Square. Both the Cabildo, the historical museum in which the Louisiana Purchase was signed, and The Presbytere, which houses a fantastic and thorough exhibit on Mardi Gras, are worth their paltry six-dollar entrance fees. If museums are your thing, continue on to the New Orleans Museum of Art, which sits in the lovely City Park and includes a large sculpture garden. (The museum can be reached by riding the Canal Street Streetcar up to the last stop.)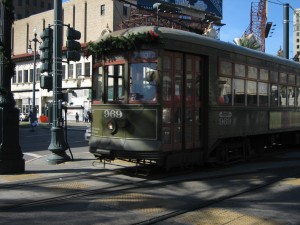 Another New Orleans must-see is the Garden District, home to the wealthier New Orleanians an celebrities such as Archie Manning (father of Peyton and Eli) and John Goodman (who purchased his house from Nine Inch Nails frontman Trent Reznor). You can take a tour of this beautiful and historical area with a guide, or save yourself some money and follow the walking tour outlined by Frommers here. The Garden District can easily be reached by taking the St. Charles Avenue Streetcar.
Other popular tourist destinations and activities include the Audobon Zoo, Aquarium of the Americas (located by Riverside Mall and right near a bizarrely located Holocaust memorial), a steamboat cruise on the Mississippi, The National WWII Museum, going to the casino at Harrah's, and art-gallery-hopping on Magazine Street. No matter what you choose to do, just be sure to bring your walking shoes—you'll need 'em.
A quick note about choosing which time of year to go: New Orleans tends to have volatile weather, but on the whole, you can expect winters to be fairly mild and pleasant, around 60 degrees. Since New Orleans is not a particularly popular destination for Christmas, hotels lower their rates around this time, and so I'd highly recommend planning your trip for the end of December, if possible. However, any time will do, except for summer, when the sweltering heat makes the southern city very unpleasant, and be wary of planning around Mardi Gras unless you're actually looking to attend the event, since a reasonable hotel room may be nearly impossible to find.
Jewish Info: The Orthodox Jewish community of New Orleans is primarily located in Metairie, where the Orthodox Shul was forced to relocate after being damaged by Hurricane Katrina. However, there is a Chabad in the French Quarter with daily minyans as well as Shabbat services, and the website provides the names of two small hotels located within walking distance on St. Charles Avenue. The Chabad also contains a mikva, which is available by appointment only.