Contributed by: Linda Rosenberg Minkow | Laste date of travel: Author currently lives there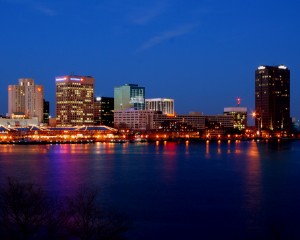 Kosher info: Norfolk has a growing array of kosher conveniences. Two local supermarkets carry a limited selection of kosher products: Harris Teeter on DeBree Avenue and The Marketplace (formerly Gene Walters) on 21st Street between Colonial and Colley. The Marketplace is currently in the process of renovating, and when they're done there will be a kosher deli counter and larger selection of meat.
There is a kosher wholesaler in Norfolk called VA Bel or Belkov's, located on Princess Anne Road. They are open Tuesday-Friday 10-3 or so, and will stay open if you call an order ahead to pick up at another time. They literally have an entire warehouse of kosher foods, and Calvin will open any box of anything he has in the back to sell to his kosher customers. It's really great if you have the time to pick up a order during the day.
Restaurant-wise, there is currently an Israeli grocery store called Little Israel in Virginia Beach on Independence Blvd that serves falafel, deli sandwiches, fries, salds, schawarma and the best Jerusalem mix I have ever had. They have a mashgiach there until about 4 pm so if you want anything meat after that, call ahead and Yehuda will make sure you get what you orderd. Yehuda's mother-in-law is Moroccan and makes some of the best couscous I have ever tried.
There is a new dairy/fish/pasta restaurant that just opened in the Waterside, a small mall that is right in the middle of downtown Norfolk near a lot of tourist attractions (see tourism section). I haven't been there yet, but it's run by three non-Jewish ladies who also run Dish catering, a local kosher catering company. There is also a woman in the local Orthodox shul who does small-scale catering, Tehilla Mostofsky. She's phenomenal.
Beyond restaurants and catering, we have a Rita's Water Ice and a Cold Stone Creamery under hashgacha on 21st St. The JCC off of the Witchduck Road (yes, you read that right) exit from highway 264 has a kosher cafeteria as well, providing wrap sandwiches and other lunch options.
Tourist Info: Norfolk and Virginia Beach are great tourist spots. Norfolk has the world's largest shipyard and naval base. There is a museum called the Nauticus which outlines Norfolk's naval involvement since the very beginning of US history. There is also a decommissioned battle ship you can tour called the US Wisconsin. The Nauticus area is right down the block from the new cruise ship terminal, where you can also catch local boat tours of the bay.
Downtown Norfolk has lots of attractions. There is the MacArthur Center Mall, located across the street from the General MacArthur memorial/museum. There are lots of little boutiques, bookstores and clubs in the area as well. Ghent is right near Old Dominion University, Norfolk State University and Easter Virginia Medical School. It has lots of trendy little bars and stores, including bike shops and health food stores.
Virginia Beach, of course, has the beach and other beach attractions. There is First Landing state park, which has really great running and biking trails as well as a boating marina. Fort Story is a local Army base that has a small museum and a lighthouse if you enjoy those sorts of things.
There are numerous concert venues throughout Norfolk and Virginia Beach if you're looking to catch a major comedy or music act. The Chrysler Museum in downtown Norfolk and the Virginia Opera House are attractions right in the middle of trendy Ghent and Downtown Norfolk areas.
If you're willing to take a drive, Williamsburg is only an hour away. There is colonial Williamsburg, Yorktown and Jamestown, which are great historic areas with lots of interactive attractions and living history sites. Busch Gardens is in the area, as is King's Dominion. Both are fantastic theme parks. Another 30 minutes north is Richmond, which has a Virginia Holocaust museum as well as various historical and entertainment attractions. Driving south of Norfolk will take you to North Carolina. There are lots of beaches and outdoor attractions there, including boating and camping. If you head to Raleigh, the museum thre has a Dead Sea Scrolls exhibit (not sure how long that's going on there).
Jewish info: In Norfolk, there is a lot of Jewish history and a growing Jewish community. B'nai Israel is the local Orthodox shul, but there is also a Chabad near ODU (Old Dominion Univ.). There are two large Conservative temples and at least one large Reform temple in Norfolk. B'nai Israel is run by Rabbi Chaim Silver (community Rabbi) and Rabbi Sendar Haber (assistant Rabbi). There is a kollel/Jewish education outreach center run by Rabbi Gershon Litt. There are two Jewish elementary schools, one run by the JCC (less religious) and one run by the B'nai community (more religious). There is currently a small boy's high school and girl's high school as well.
The Jewish community is very tight-knit, a mix of local ba'alei t'shuvah together with the Rabbis (and their families) that teach at the school, run the shul and maange the kashrut for the community. There is a large military presence in Norfolk, so the community has a lot of former and current military members who are stationed in the area.
It's a very welcoming community so feel free to stop by!