Contributed by: Ben Greenberg | Last Date of Travel: April 2008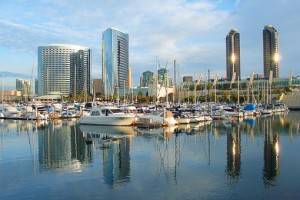 Kosher Info: There are several kosher establishments in San Diego spread throughout the city. Orly's Cafe and Bakery in the University City neighborhood offers the standard selection of bagels and breads as well as knishes, pizza, cakes, cookies and pastries. Across the street from each other are respectively The Place and The Dairy Place. Both restaurants are under the same ownership. The Place also offers a full selection of grocery items. In the restaurant section of The Place you can find shwarma, schnitzel, steak, soups and other standard fare. The Dairy Place offers fresh fish, pastas and salads. Inside The Dairy Place is also the largest selection of kosher wines, both local California kosher wines and exotic ones as well. The Place and The Dairy Place are situated within what is locally called The College Area as San Diego State University is within the neighborhood.
Tourist Info: San Diego is a beautiful city at the edge of the continental United States only a few short miles from Baja California in Mexico and a two hour drive south of Los Angeles. It is famous for having perfect weather 365 days a year and its coasts are dotted with sandy beaches where one can go surfing, swimming, sailing or any other beach activity. The city is also well known for The San Diego Zoo and Wild Animal Park as well as Sea World and Legoland.
Jewish Info: San Diego has a relatively large Jewish community of over 100,000 Jews. Two of the prominent Orthodox synagogues in the area are Beth Jacob in the College Area and Adat Yeshurun in La Jolla. Additionally, there are several mikvaot throughout San Diego. One can also find Chabad Houses throughout the city including Chabad of University City, Chabad of La Jolla Shores, Chabad at San Diego State University, among many others.