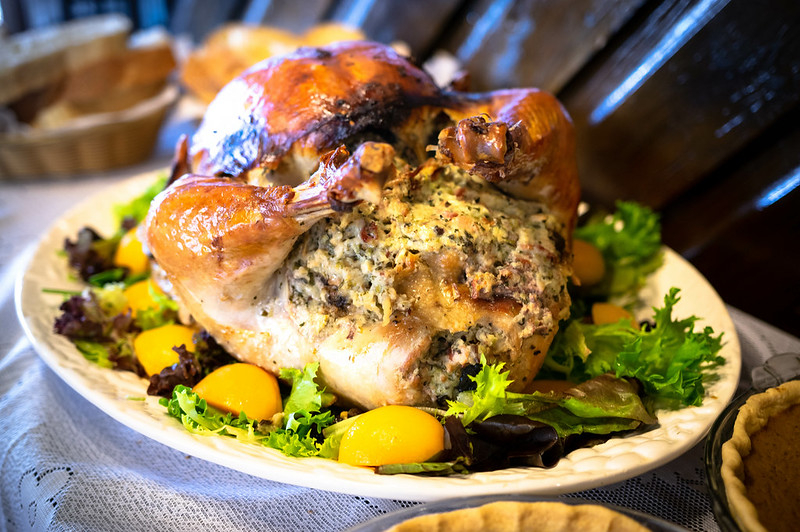 We get it. Not everyone wants to make a huge turkey or has a large family to share the Thanksgiving holiday with. Others, like myself, grew up going out for turkey shwarma on 'turkey day' at Famous Pita in Brooklyn.
But there are many of us who still want all the Thankgiving holiday fix-ins but want to be wined and dined. Going out to eat often trumps your mom's stuffed turkey.
The following are Glatt Kosher restaurants in the U.S. that will be both open and serving Thanksgiving meals this coming Thursday, aka Thanksgiving Day. Many, if not most, of these restaurants are also offering Thanksgiving meals as to-go / catering options as well.
For those seeking to dine at the restaurant, we recommend making reservations prior. (If we are missing any restaurants from this list, please let us know in the comments below).
| | | |
| --- | --- | --- |
| Restaurant | City | State |
| Harissa | Los Angeles | CA |
| La Gondola | Los Angeles | CA |
| Tierra Sur | Oxnard | CA |
| Ditmas | Boca Raton | FL |
| Evita | Chicago | IL |
| Prime 10 | Detroit | MI |
| The Bridge Turkish and Mediterranean Grill | Highland Park | NJ |
| Great Falls Bistro | Passaic | NJ |
| Etc. Steakhouse | Teaneck | NJ |
| Noah's Ark | Teaneck | NJ |
| Nobo Wine & Grill | Teaneck | NJ |
| Burnt Offering | Las Vegas | NV |
| Essen NY Deli | Brooklyn | NY |
| Grill Point | Brooklyn | NY |
| Grüit | Brooklyn | NY |
| T Fusion Steakhouse | Brooklyn | NY |
| Wolf & Lamb | Brooklyn | NY |
| Doma Land + Sea | Cedarhurst | NY |
| FiveFifty | Cedarhurst | NY |
| Chatanooga Persian Restaurant & Catering | Great Neck | NY |
| Laffa Bar & Grill | Hewlett | NY |
| Fireside | Monsey | NY |
| The Ridge Steakhouse | Monsey | NY |
| Abigael's | New York | NY |
| Wall Street Grill | New York | NY |
| Wolf & Lamb | New York | NY |
| Bedford on Park | New York | NY |
| Eighteen Restaurant | New York | NY |
| Le Marais | New York | NY |
| Mendy's | New York | NY |
| Noi Due Carne | New York | NY |
| Talia's Steakhouse | New York | NY |
| UN Plaza Grill | New York | NY |
| Grill Point | Queens | NY |
| Wing Wan | West Hempstead | NY |
| Kosher Palate | Dallas | TX |
Image credit: Marco Verch