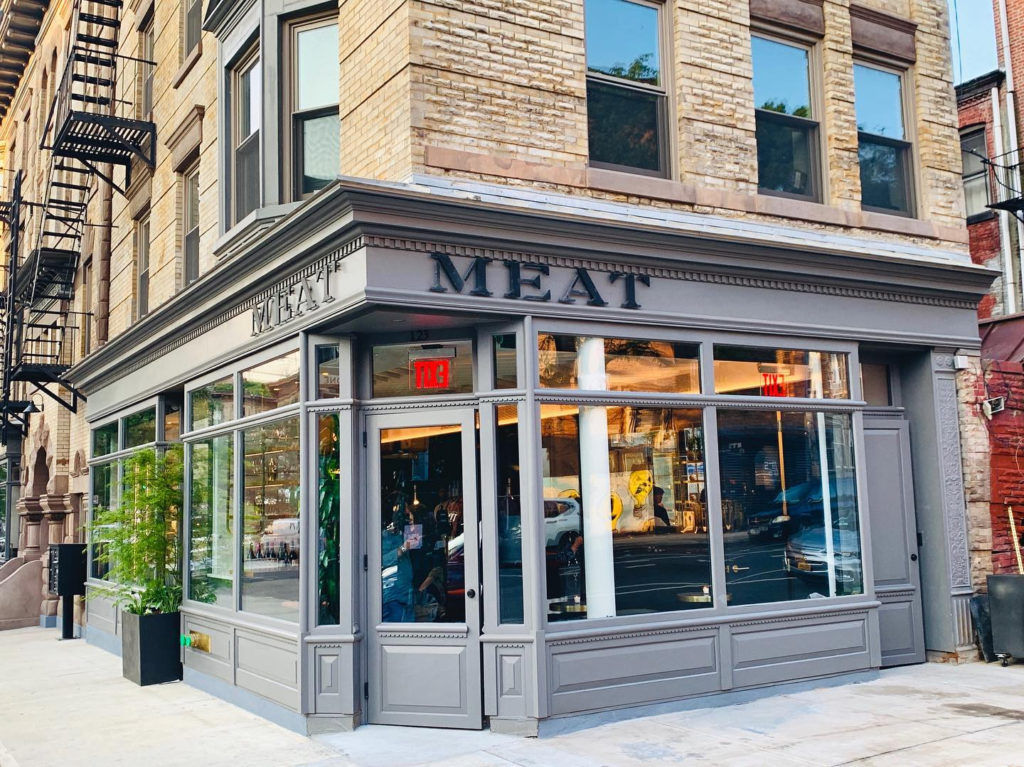 The long awaited opening of MEAT arrived earlier this August in Brooklyn, the brainchild restaurant from the team behind Basil in Crown Heights. We first discussed the opening of this restaurant 5.5 years ago (!!), but we're glad to see this beautiful eatery open nonetheless.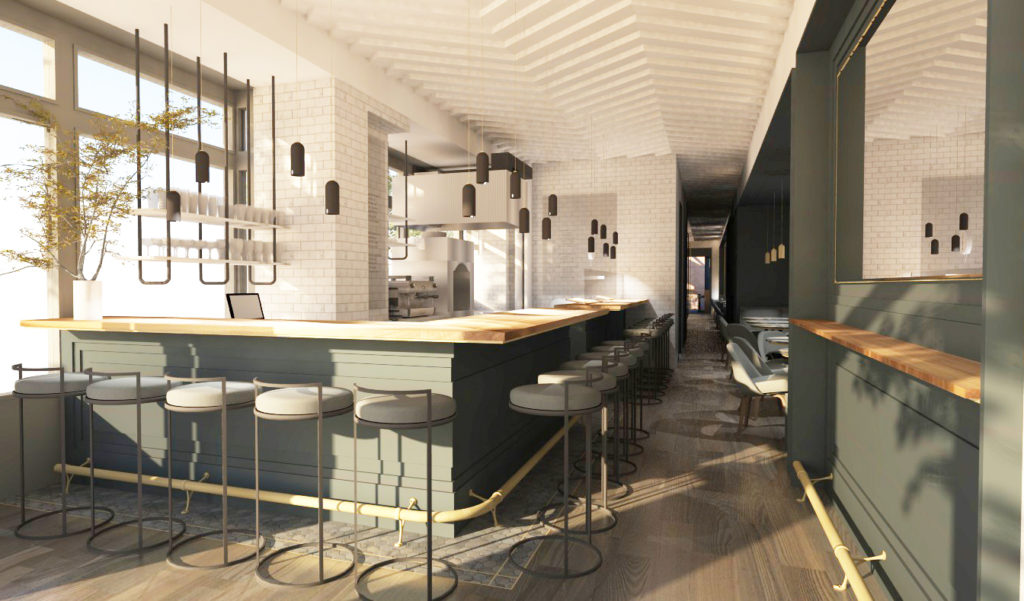 Meat designed a luxurious restaurant experience, which welcomes you upon entering, where they designed an elegantly contemporary bar and lounge seating area with marble tiling. The restaurant's main seating area includes armchair and banquette seating, as well as large windows to enjoy natural light during the day, and the sights of the neighborhood at night.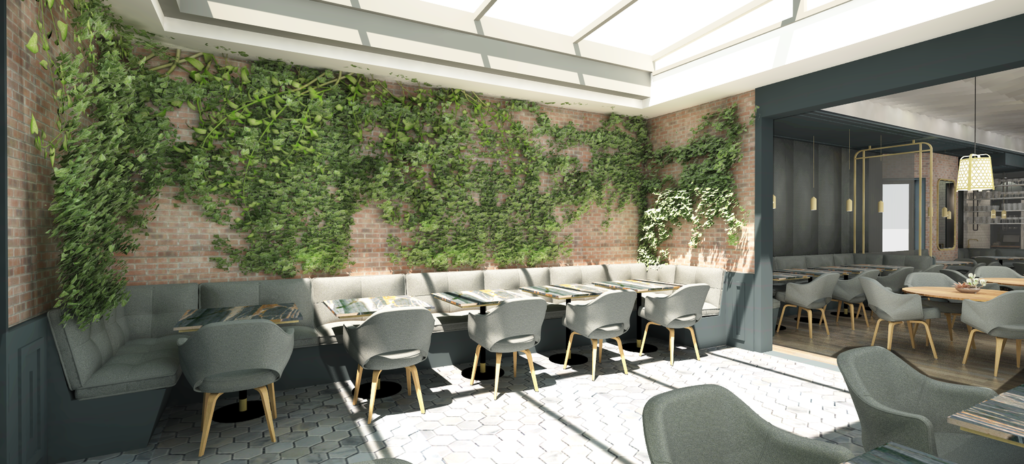 The restaurant's private dining room juxtaposes an exposed brick accent wall with living ivy and a modern skylight that draws in historic Brooklyn.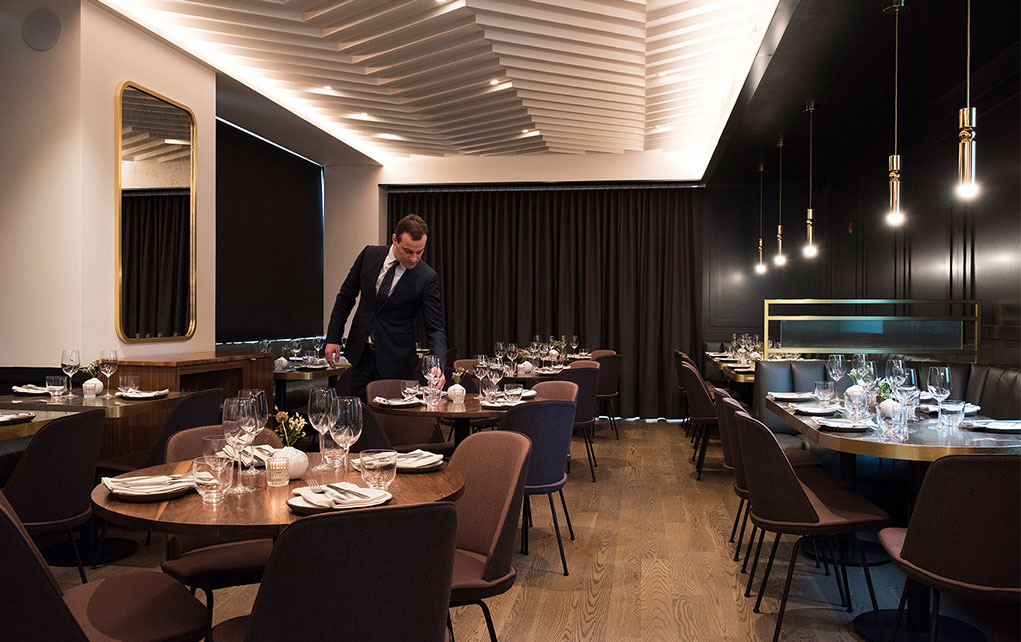 While the restaurant is brand new, we should expect that menu changes both in terms of its offering and potentially pricing may happen in the future. Here's the current menu as of end of August 2019: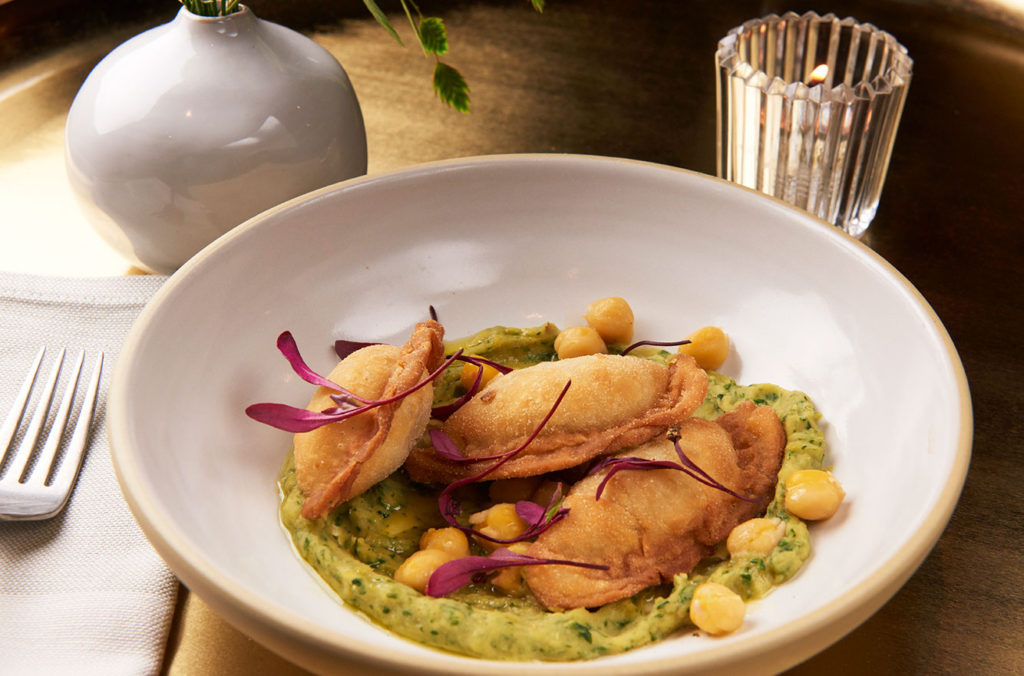 Cold Appetizers:
BREADS & SPREADS $18
KUBENIA $30

Bulgur, Tamarind, House Spice Blend, Hyssop, Tahini, Extra Virgin Olive Oil

TOMATO SALAD $25

Fresh Oregano, Soft Boiled Egg, Spring Onions, Roasted Tomato & More

GREEN SALAD $23

Selected Leaves, Belgian Endives, Radish, Citrus Vinaigrette

TARTARE $25

Egg Yolk, Wild Rice Cracker, House Made Mustard

CARPACCIO $27

Porcini Powder, Chicken Caviar, Shallots

CHARCUTERIE BOARD $45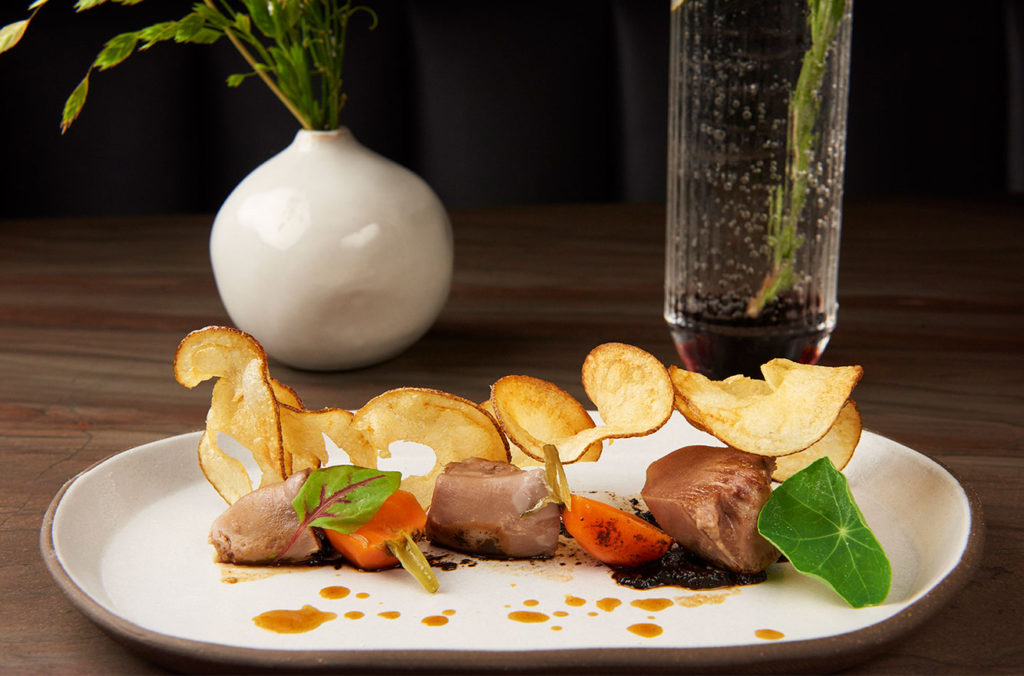 Hot Appetizers:
VEAL SWEETBREADS $28

Crispy Lentils, Charcoal Roasted Potatoes, Selected Herbs, Demi-Glace

SAMBUSAK $30

Gizzards, Soft Chickpeas, Caramelized Onions

"MEAT" CONSOMME $20

Root Vegetables, Slow Cooked Veal

CAULIFLOWER $20

Smoked Eggplant, Pan Frittata, Pomegranate, Tahini, Date Honey

LAMB TONGUE $28

Black Garlic, Parisian Carrots, Glace de Veal

VEAL RAVIOLO $30

Soft Egg Yolk, Celeriac Sauce, Onion Petals

DUCK CROQUETTE $32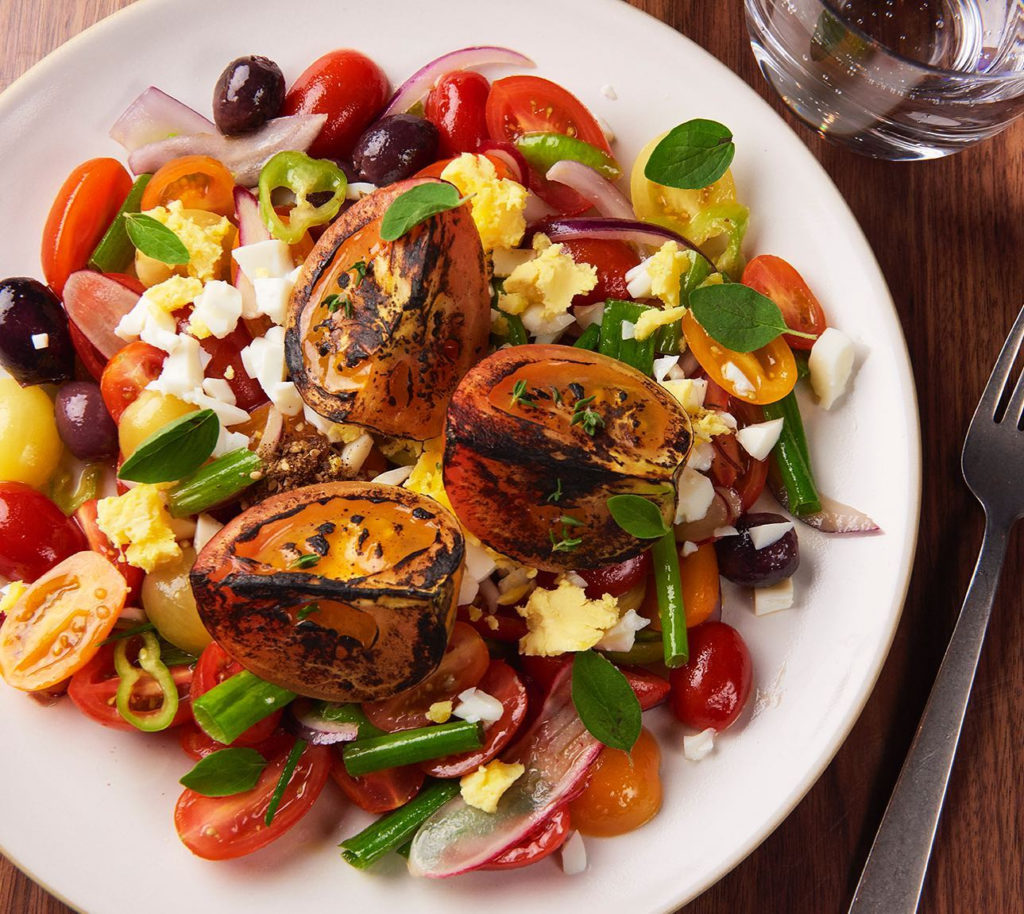 Main Course:
DUCK $80

Seared Breast, Assorted Beets, Balsamic, Blueberry Sauce

LAMB CHOPS $78

Roasted, Jerusalem Artichoke Cream,
Stuffed Onion, Mint Sauce

OSSO BUCCO $58

Slow Cooked Beef, Carrots, Pearl Onions, Scallions

ROTOLO $52

Beef Rillettes, Caramelized Shallots, Seasonal Roasted Mushrooms, Veal Sauce

COQ AU VIN $45

Cornish Hen, Shallots, Mushrooms, Cherry Tomato Confit, Leeks

LAMB SHOULDER $56

Couscous, Root Vegetables, Lamb Jus

GNOCCHI $34

Jerusalem Artichoke Cream, Roasted Tomatoes, Marinated Artichokes

STEAKS – LIMITED EDITION – USDA Prime

BONE IN DRY AGED / BONELESS WET AGED $4.50/oz

Fingerling Potatoes, House Spicy Ketchup,
Cherry Tomato Confit, Oyster Mushrooms, Bone Marrow 

TENDER $69

Cream of Celery, Morel Mushrooms, Leeks,
Baby Zucchini, Bone Marrow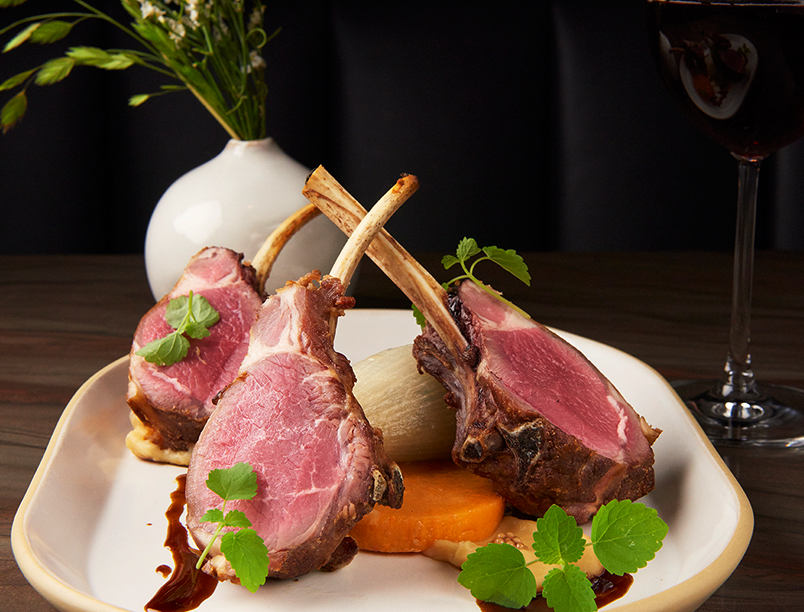 Additionally, the restaurant has a published tasting menu listed as "The Feast" … click here for details. (Pricing is not published at this time)
Running the kitchen at Meat is Jerusalemite Chef Reem Look, whose bio on the Meat website is nothing short of impressive:
Chef Reem Look brings classical training and modern creativity to Meat from Jerusalem, Israel. There, he served as executive chef at the Herbert Samuel Hotel, before moving to Isrotel's renowned Orient Jerusalem. Chef Reem's previous experience includes positions with the acclaimed La Regence and King's Garden restaurants, both at the King David Hotel in Jerusalem, as well as Prague's King David Hotel, where he worked under Chef Daniel Levy.​In addition to his restaurant work, Chef Reem has partnered on tasting menu projects with esteemed chefs, like Chefs Simone Zanoni and Bernard Bach, both awardees of two Michelin stars.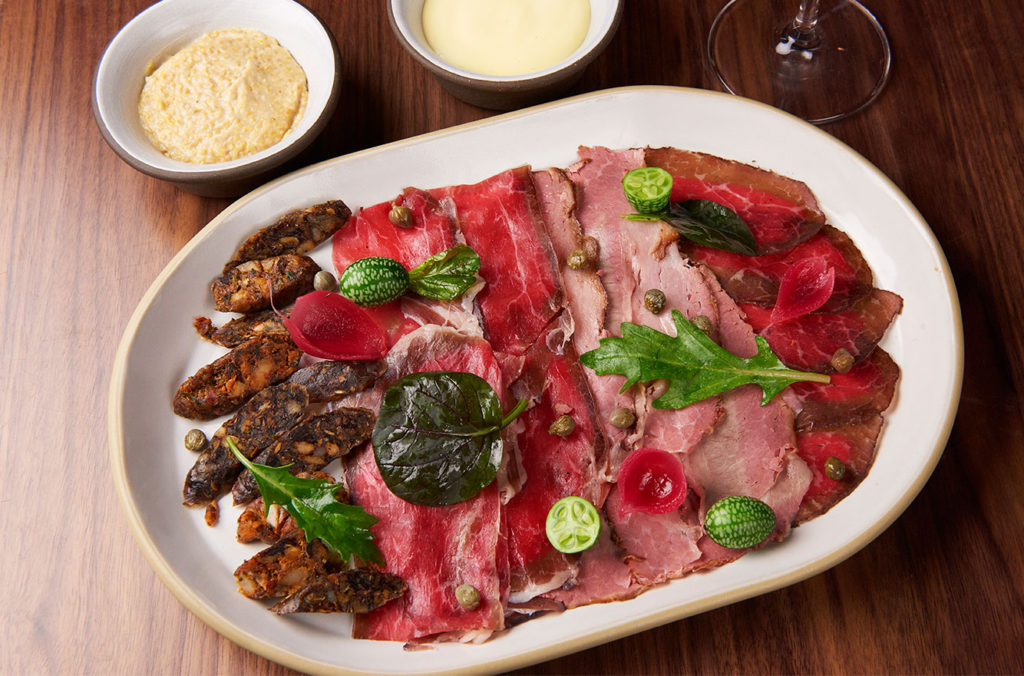 Meat is located at 123 Kingston Avenue, Brooklyn, NY, and is kosher certified by OU Glatt Kosher with Chassidishe Shechita. Lubavitcher Shechita options available upon request.
Reservations can be made online using Resy.
Meat is open Sunday-Thursday 5:30-11pm.
Scroll down for additional pictures (courtesy of Heshy Jay and Moshe Weiss)