We've settled the age old question of "Does a kosher pizzeria exist if it doesn't serve sushi?"
Definitively answering that question is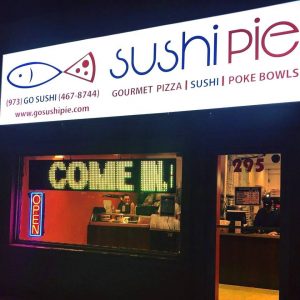 Sushi Pie, which has opened for business a little over a month ago and bills itself as a gourmet pizza pie, sushi, and poke eatery in Lawrence (Five Towns), Long Island.
The menu includes many different sushi rolls, vegetable rolls and fish rolls, conveniently available 3 for $10, and 3 for $12, respectively. Tempura rolls are $9 and the Chef's Special Roll is $8.
Ash's Poke Bowls are all $12. Varieties available are: The Reggie (white rice, salmon, avocado, carrot, edamame, sweet sauce, sesame seeds), Mighty Spicy (white rice, spicy tuna, cucumber, jalapeno, scallions, spicy mayo, crunch), Health Freak (brown rice, salmon, asparagus, carrot, cucumber, ginger dressing, seaweed), Yellowtail Carpaccio (cucumber, yellowtail, jalapeno, scallions, ponzu sauce, sesame seeds), and Sushi Salad (lettuce, salmon, yellowtail, avocado, mayo, scallions, ginger, sesame seeds).
On the "pie" side, the pizza options include interesting toppings featuring: Truffle Mushroom, BBQ Vegan Chicken, Teryaki Vegan Chicken, Vegan Pepperoni, and other gourmet pizza combos. Additionally, they offer a Build Your Own Pie option with dozens of choices, and tens of thousands of combinations (yes, we did the math).
Check out the Pizza & Sushi/Poke menu here
Hours of operation are Sunday-Thursday 11am-8pm.
Sushi Pie is certified by the Vaad Hakashrus of the Five Towns.