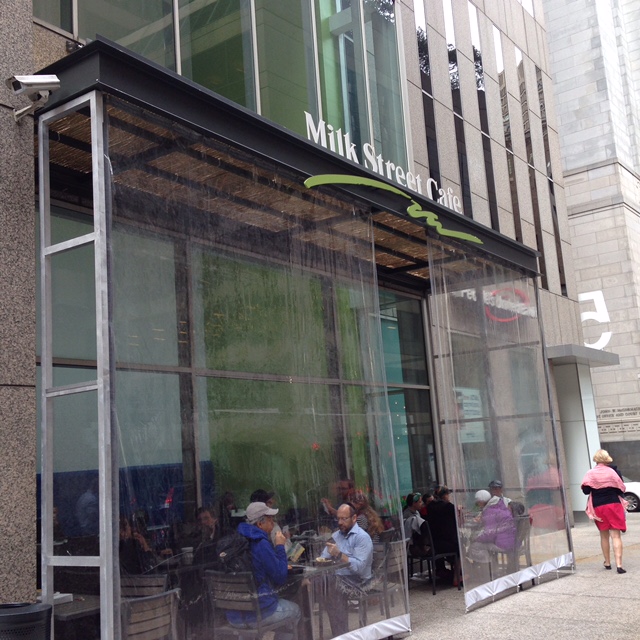 Depending on where you're spending Sukkot, finding a kosher restaurant with a Sukkah can be difficult. We've been collecting restaurant names from around the world that will have a Sukkah accessible to diners during Chol Hamoed for the chag. The list below has over 230 kosher restaurants around the world, with more coming each day!
[Note about Kosher Restaurants in Jerusalem and many other parts of Israel: Nearly all restaurants in Jerusalem with most hashgachas are required to have a sukkah if they are open for chol hamoed. It is safe to say that finding a kosher restaurant with a sukkah in Jerusalem, and elsewhere in Israel, will not be difficult.]
Note about all restaurants on this list: consumers should take caution and ensure that the sukkah is a valid one. Hashgachas generally do not verify the kashrut of the sukkah, only the kashrut of the food.
The following list is alphabetized geographically, by country, state, and city (in that order).
If there are any restaurants missing from this list, please comment below and we will add them. This list will continuously be updated throughout the weekend and on chol hamoed.
| | | | |
| --- | --- | --- | --- |
| Restaurant Name | City | State | Country |
| El Paisano Kosher House | Buenos Aires | | Argentina |
| Mama Falafel | Melbourne | VIC | Australia |
| Off the Hook | Melbourne | VIC | Australia |
| Sandwich Bar 55 | Melbourne | VIC | Australia |
| Cafe 61 on Woodrow | Perth | WA | Australia |
| Passionate | Melbourne | VIC | Australia |
| Aleph Aleph | Vienna | | Austria |
| Shaya's | Antwerp | | Belgium |
| Top Nosh | Niagara Falls | ON | Canada |
| Ba-Li Laffa North | Thornhill | ON | Canada |
| Aroma Espresso Bar Kosher | Toronto | ON | Canada |
| Ba-Li Laffa South | Toronto | ON | Canada |
| Bubby's Bagels | Toronto | ON | Canada |
| Bunch of Fun Playland | Toronto | ON | Canada |
| Chicken Nest | Toronto | ON | Canada |
| Dr Laffa On the Go | Toronto | ON | Canada |
| King David Pizza inside Mount Sinai Hospital | Toronto | ON | Canada |
| Lipa Green Centre for Jewish Community Services | Toronto | ON | Canada |
| Slice N Bites | Toronto | ON | Canada |
| Tov-Li Pizza & Falafel (South) | Toronto | ON | Canada |
| Windsor Arms Hotel | Toronto | ON | Canada |
| Starbucks Cafeteria at the Leo & Sala Goldhar Celebration Centre | Vaughn | ON | Canada |
| Deli Boyz | Cote St. Luc | QC | Canada |
| Kosher Pizza Bar | Cote St. Luc | QC | Canada |
| Metsuyan Sushi Express | Cote St. Luc | QC | Canada |
| Federation CJA Coffee Shop | Montreal | QC | Canada |
| Le Plezl | Montreal | QC | Canada |
| Mozart | Montreal | QC | Canada |
| Pizza Gourmetti | Montreal | QC | Canada |
| Pizza Pita | Montreal | QC | Canada |
| Saizen | Montreal | QC | Canada |
| Yakimono Sushi Bar | Montreal | QC | Canada |
| 126 | Paris | | France |
| Ago | Paris | | France |
| Chicago | Paris | | France |
| Kokoriko | Paris | | France |
| L'aile ou la cuisse | Paris | | France |
| Papy Youda | Paris | | France |
| Saiko | Paris | | France |
| Shinzzo 19e | Paris | | France |
| Tib´s 19e | Paris | | France |
| Ghimel Garden | Venice | | Italy |
| Red Heifer (advance reservations requried) | Cancun | Quintana Roo | Mexico |
| Gaucho Grill | Mexico City | | Mexico |
| Lwany's | Mexico City | | Mexico |
| Cafe Riteve | Cape Town | | South Africa |
| Coffee Time | Cape Town | | South Africa |
| The Press Bar & Grill | Cape Town | | South Africa |
| Bagel Zone | Johannesburg | | South Africa |
| Brioche | Johannesburg | | South Africa |
| Corner Cafe | Johannesburg | | South Africa |
| DugFish Restaurant | Johannesburg | | South Africa |
| Frangelicas | Johannesburg | | South Africa |
| Friends Deli / Restaurant | Johannesburg | | South Africa |
| Gelatissimo | Johannesburg | | South Africa |
| Jo's Kitchen | Johannesburg | | South Africa |
| Jozi Blue | Johannesburg | | South Africa |
| Kosher Nandos | Johannesburg | | South Africa |
| Michelos Pizzeria | Johannesburg | | South Africa |
| Mooz-Brothers | Johannesburg | | South Africa |
| Next Door/RTG's | Johannesburg | | South Africa |
| Nussbaums Kosher Butchery | Johannesburg | | South Africa |
| Sosushi Jhb | Johannesburg | | South Africa |
| The Deli Store | Johannesburg | | South Africa |
| The Kosher Pie Works | Johannesburg | | South Africa |
| Orli in the Wood | Borhamwood | England | UK |
| Sami's | Hendon | England | UK |
| Idols Bella | London | England | UK |
| Tasti Pizza | London | England | UK |
| Brackmans Bakery & Restaurant | Manchester | England | UK |
| Ta'am | Manchester | England | UK |
| 613 Grill | Phoenix | AZ | USA |
| Kitchen18 | Scottsdale | AZ | USA |
| Long Beach Beer Lab | Long Beach | CA | USA |
| Beverly Café Elite | Los Angeles | CA | USA |
| Bibi's Bakery | Los Angeles | CA | USA |
| Delice Bakery | Los Angeles | CA | USA |
| Elite Cuisine | Los Angeles | CA | USA |
| Fish Grill | Los Angeles | CA | USA |
| Fleishiks | Los Angeles | CA | USA |
| Got Kosher? | Los Angeles | CA | USA |
| Jeff's Gourmet | Los Angeles | CA | USA |
| Kosher Pizza Station | Los Angeles | CA | USA |
| Kosher Pizza World | Los Angeles | CA | USA |
| LA Burger Bar | Los Angeles | CA | USA |
| Meshuga 4 Sushi | Los Angeles | CA | USA |
| Nagila Meating place | Los Angeles | CA | USA |
| Nagila Pizza | Los Angeles | CA | USA |
| O'woks | Los Angeles | CA | USA |
| Pico Café | Los Angeles | CA | USA |
| Pico Kosher Deli | Los Angeles | CA | USA |
| Pizza World | Los Angeles | CA | USA |
| Shwartz's on Pico | Los Angeles | CA | USA |
| Trattoria Natalie | Los Angeles | CA | USA |
| Orange Delight | Sherman Oaks | CA | USA |
| East Side Kosher Deli | Denver | CO | USA |
| Soosh | Stamford | CT | USA |
| Acqua | Aventura | FL | USA |
| China Bistro | Aventura | FL | USA |
| Fresko | Aventura | FL | USA |
| Fuego BBQ & Smokehouse | Aventura | FL | USA |
| Mama's Pizza | Aventura | FL | USA |
| Soho | Aventura | FL | USA |
| Asia | Boca Raton | FL | USA |
| Butcher Block Grill | Boca Raton | FL | USA |
| Century Grill | Boca Raton | FL | USA |
| Ditmas Boca | Boca Raton | FL | USA |
| Mozart Cafe | Boca Raton | FL | USA |
| Pita n' Go | Boca Raton | FL | USA |
| Cafe Emunah | Fort Lauderdale | FL | USA |
| Raw Poke Bar | Fort Lauderdale | FL | USA |
| Falafel Time | Fort Lauderdale | FL | USA |
| L'Chaim Asian Cuisine & Steakhouse | Hollywood | FL | USA |
| Mizrachi Pizza | Hollywood | FL | USA |
| Mozart Cafe | Hollywood | FL | USA |
| Pita Star | Hollywood | FL | USA |
| Sara's Pizza | Hollywood | FL | USA |
| Bagel Time | Miami Beach | FL | USA |
| Beyond by Shemtov's | Miami Beach | FL | USA |
| Capri Sushi & Italian | Miami Beach | FL | USA |
| Carlos and Gabby's | Miami Beach | FL | USA |
| CU Cafe @ Mimosa | Miami Beach | FL | USA |
| Grill House | Miami Beach | FL | USA |
| Lenny's Pizza | Miami Beach | FL | USA |
| Pita Loca | Miami Beach | FL | USA |
| Prime 41 | Miami Beach | FL | USA |
| Tasty Cafe | Miami Beach | FL | USA |
| 17 North | North Miami Beach | FL | USA |
| Bagel Way Kosher Way | North Miami Beach | FL | USA |
| Blaze Tex-Mex BBQ | North Miami Beach | FL | USA |
| Chai Wok | North Miami Beach | FL | USA |
| Holy Bagel NMB | North Miami Beach | FL | USA |
| Jerusalem Pizza | North Miami Beach | FL | USA |
| Kosher Subway | North Miami Beach | FL | USA |
| Pita Hut | North Miami Beach | FL | USA |
| Shalom Haifa | North Miami Beach | FL | USA |
| Mexico Bravo Cantina & Grill | Sunny Isles Beach | FL | USA |
| Sunrise PIta & Grill | Sunrise | FL | USA |
| 26 Sushi & Tapas | Surfside | FL | USA |
| Backyard BBQ & Brew | Surfside | FL | USA |
| Café Vert | Surfside | FL | USA |
| Kosh Miami | Surfside | FL | USA |
| Rustiko | Surfside | FL | USA |
| Bebes Kosher Deli | Chicago | IL | USA |
| Evita Steakhouse | Chicago | IL | USA |
| Great Chicago Food & Beverage | Chicago | IL | USA |
| Main Pizza Chalavi | Chicago | IL | USA |
| Milt's BBQ | Chicago | IL | USA |
| Hy Life Bistro / Slice of Life | Skokie | IL | USA |
| Ken's Diner | Skokie | IL | USA |
| Shallot's | Skokie | IL | USA |
| Taboun Grill | Skokie | IL | USA |
| Kosher Cajun | New Orleans | LA | USA |
| Milk Street Cafe | Boston | MA | USA |
| Accents Grill Atrium | Baltimore | MD | USA |
| Caramel's Pizza | Baltimore | MD | USA |
| David Chu | Baltimore | MD | USA |
| Dougie's | Baltimore | MD | USA |
| Dunkin Donuts (on Fallstaff) | Baltimore | MD | USA |
| Eden Café | Baltimore | MD | USA |
| Goldberg's Bagels | Baltimore | MD | USA |
| Kosher Bite | Baltimore | MD | USA |
| Mama Leah's Pizza | Baltimore | MD | USA |
| Tov Pizza | Baltimore | MD | USA |
| Al Ha'Esh | Rockville | MD | USA |
| Siena's Pizzeria | Rockville | MD | USA |
| Ben Yehuda Pizza | Silver Spring | MD | USA |
| Max's Kosher | Silver Spring | MD | USA |
| Kosher Pastry Oven | Wheaton | MD | USA |
| Kravings Detroit | Oak Park | MI | USA |
| Soul Cafe | West Bloomfield | MI | USA |
| Prime Deli | Minneapolis | MN | USA |
| Arlington Hotel Restaurant | Bethlehem | NH | USA |
| Mazza and More | Allenhurst | NJ | USA |
| Bubbie's Bistro | Atlantic City | NJ | USA |
| Poppy's Cafe and Commisary | Atlantic City | NJ | USA |
| Giddy's Pizzeria | East Brunswick | NJ | USA |
| Avenue Grill & Sushi | Elizabeth | NJ | USA |
| Snaps | Lakewood | NJ | USA |
| South Side Sandwich Shop & Smokehouse | Lakewood | NJ | USA |
| Yapchik 1757 | Lakewood | NJ | USA |
| Jerusalem West | Livingston | NJ | USA |
| Bistro 70 | New Brunswick | NJ | USA |
| Great Falls Bistro | Passaic | NJ | USA |
| Estihana Teaneck | Teaneck | NJ | USA |
| Mocha Bleu | Teaneck | NJ | USA |
| Noah's Ark | Teaneck | NJ | USA |
| Nobo Wine & Grill | Teaneck | NJ | USA |
| Rock n Roll Sushi Noodle Bar | Teaneck | NJ | USA |
| Teaneck Doghouse | Teaneck | NJ | USA |
| Anise Tapas & Grill | Las Vegas | NV | USA |
| Jerusalem Grill and Bar | Las Vegas | NV | USA |
| Shwarma Vegas | Las Vegas | NV | USA |
| Smith's Food and Drug (Rampart and Lake Mead) | Las Vegas | NV | USA |
| Moss Cafe | Bronx | NY | USA |
| Bison & Bourbon | Brooklyn | NY | USA |
| Boeuf & Bun | Brooklyn | NY | USA |
| Bordeaux | Brooklyn | NY | USA |
| Brooklyn Artisan Bakehouse | Brooklyn | NY | USA |
| Cafe Renaissance | Brooklyn | NY | USA |
| Calabria Pizza | Brooklyn | NY | USA |
| Carlos & Gabby's | Brooklyn | NY | USA |
| China Glatt | Brooklyn | NY | USA |
| Chocolatte | Brooklyn | NY | USA |
| Day 5 Sushi | Brooklyn | NY | USA |
| Dean Street Café | Brooklyn | NY | USA |
| Essen NY Deli | Brooklyn | NY | USA |
| Evergreen Market Deli | Brooklyn | NY | USA |
| Falafel Off the Corner | Brooklyn | NY | USA |
| Fujihana | Brooklyn | NY | USA |
| Garden of Eat In | Brooklyn | NY | USA |
| Grill on Lee | Brooklyn | NY | USA |
| Holy Schnitzel | Brooklyn | NY | USA |
| Ice Cream House | Brooklyn | NY | USA |
| Izzy's BBQ Addiction | Brooklyn | NY | USA |
| Main House BBQ | Brooklyn | NY | USA |
| Mendel's Pizza | Brooklyn | NY | USA |
| Mendelsohns Pizza | Brooklyn | NY | USA |
| Meraki | Brooklyn | NY | USA |
| Mint | Brooklyn | NY | USA |
| My Grill Bar | Brooklyn | NY | USA |
| Olympic Pita | Brooklyn | NY | USA |
| Orchidea | Brooklyn | NY | USA |
| Pescada Carne | Brooklyn | NY | USA |
| Pizza Nosh | Brooklyn | NY | USA |
| Pizza Time | Brooklyn | NY | USA |
| Raw BK | Brooklyn | NY | USA |
| Siena | Brooklyn | NY | USA |
| Slices | Brooklyn | NY | USA |
| Spoons | Brooklyn | NY | USA |
| Sub Express | Brooklyn | NY | USA |
| Subsational | Brooklyn | NY | USA |
| Sunflower Cafe | Brooklyn | NY | USA |
| T-Fusion Steakhouse | Brooklyn | NY | USA |
| The Canteen | Brooklyn | NY | USA |
| Wolf & Lamb | Brooklyn | NY | USA |
| Cork & Slice | Cedarhurst | NY | USA |
| David's Famous Pizza | Cedarhurst | NY | USA |
| DOMA Land + Sea | Cedarhurst | NY | USA |
| Five Fifty | Cedarhurst | NY | USA |
| Hapina | Cedarhurst | NY | USA |
| Holy Schnitzel | Cedarhurst | NY | USA |
| Wok Tov | Cedarhurst | NY | USA |
| Bistro Burger | Great Neck | NY | USA |
| Chatanooga | Great Neck | NY | USA |
| Cho Sen Village | Great Neck | NY | USA |
| Shiraz | Great Neck | NY | USA |
| Cho Sen Island | Lawrence | NY | USA |
| Prime Bistro | Lawrence | NY | USA |
| The Coffee Bar | Lawrence | NY | USA |
| Bagel D Lox | Monsey | NY | USA |
| Chick N Chuck | Monsey | NY | USA |
| KC Grill | Monsey | NY | USA |
| Kosher Castle | Monsey | NY | USA |
| Mandarin | Monsey | NY | USA |
| Purple Pear | Monsey | NY | USA |
| Eden Wok | New Rochelle | NY | USA |
| Bagels & Co. UES | New York | NY | USA |
| Bravo Kosher Downtown | New York | NY | USA |
| Bravo Kosher Pizza & Bravo Poke | New York | NY | USA |
| Deli Kasbah | New York | NY | USA |
| Eighteen Restaurant | New York | NY | USA |
| Jerusalem Cafe | New York | NY | USA |
| Le Marais | New York | NY | USA |
| Mexikosher | New York | NY | USA |
| Mocha Burger (NOHO) | New York | NY | USA |
| Mocha Burger (UES) | New York | NY | USA |
| Mr. Broadway | New York | NY | USA |
| My Most Favorite Food | New York | NY | USA |
| NY Brat Factory | New York | NY | USA |
| Pita Grill | New York | NY | USA |
| Prime at the Bentley | New York | NY | USA |
| Reserve Cut at the Setai | New York | NY | USA |
| Talia's Steakhouse | New York | NY | USA |
| The Roast | New York | NY | USA |
| UN Plaza Grill | New York | NY | USA |
| Wolf & Lamb | New York | NY | USA |
| Cho Sen Garden | Queens – Forest Hills | NY | USA |
| Da Mikelle | Queens – Forest Hills | NY | USA |
| Mikihana | Queens – Forest Hills | NY | USA |
| MeO Japanese Hibachi | Queens – Fresh Meadows | NY | USA |
| Bravo Pizza | Queens – Kew Gardens Hills | NY | USA |
| Elite Cafe | Queens – Kew Gardens Hills | NY | USA |
| Grill Point | Queens – Kew Gardens Hills | NY | USA |
| Colbeh | Roslyn | NY | USA |
| Holy Schnitzel | Staten Island | NY | USA |
| Bageltown | West Hempstead | NY | USA |
| Sprinkles Kosher Pizza | Woodbourne | NY | USA |
| Kantina | Cleveland | OH | USA |
| Island Crust Cafe | Mercer Island | WA | USA |
| Teapot Vegetarian House | Redmond | WA | USA |
| Einstein Brothers Bagels | Seattle | WA | USA |