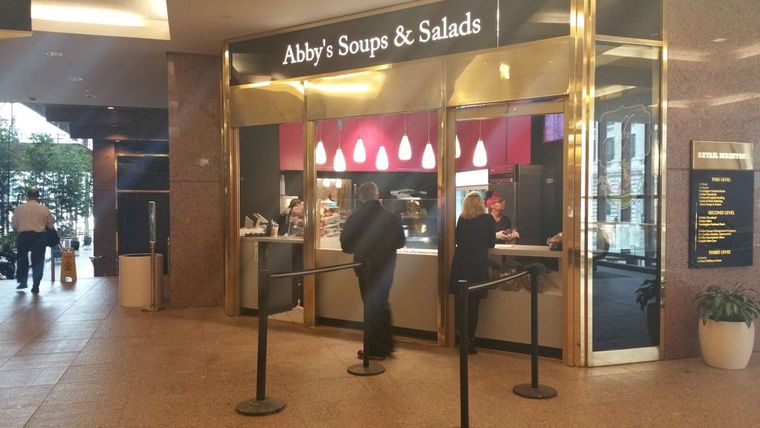 UPDATED: As of the end of June, Abby's Soups & Salads has closed.
Opening in late March right , Downtown Cleveland gained a kosher restaurant, its first in over 60 years: Abby's Soups & Salads. After running a kosher catering business from her home, Abby Aloni has expanded her business to serve those working downtown. The next closest kosher restaurant in the area is in Cleveland suburb of Cleveland Heights.
Abby's is located within the atrium of 200 Public Square where there are 2 floors of seating accommodating well over 100 people which is open to the public.
The menu includes wraps, quiches, fish, dessert pastries, salads, and offers two different types of soups a week and a salad bar. Abby avoids including any ingredients with trans fat and prides herself in serving fresh, healthy foods. The southwestern veggie wrap, crab cakes, and tuna patties are customer favorites according to Abby. [Source: Cleveland Jewish News] Click here for the full menu.
All of Abby's food is Kosher, Vegetarian, and Pareve.
Abby's Soups & Salads is also involved in catering local events as well as corporate meetings. Their hours of operation are Monday – Thursday: 7:30am – 2:30pm, Friday: closing @ 1pm, and closed Saturday & Sunday.
They offer free delivery for a group of 7 or more within the downtown Cleveland area.
Kosher supervision is under Vaad Harabonim Hacharedis of Cleveland.