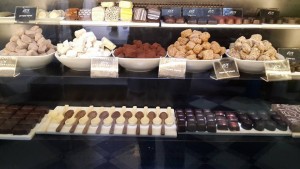 Sarona is a new shopping complex built within a historic neighborhood that has been rebuilt and preserved to the original designs and now have modern shops and restaurants in those historic buildings.
Roy Chocolate and Coffee Shop is a new kosher place under the supervision of the Tel Aviv Rabbanite.
At Roy, the fare served is typical for a cafe: Soups, salads, pasta and such. What is special is the chocolate made from scratch that they serve and sell at the venue. So when you need a coffee break from shopping in this gorgeous new complex, or if you need a sweet chocolate fix, Roy is your spot.