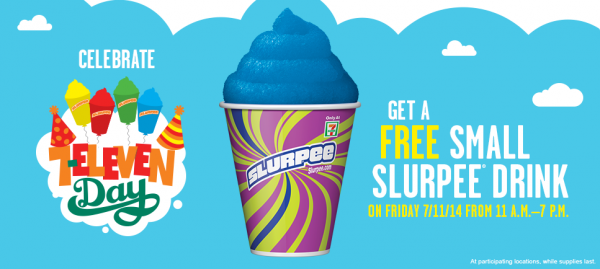 For many years now 7Eleven has been giving away free Slurpee drinks. Luckily for them, July 11th (7-11) is in the heat of the summer and demand is high for their refreshingly cool drinks. This year, 7Eleven will continue this giveaway this Friday to anyone who shows up between 11 a.m. to 7 p.m.
Additionally, 7-Eleven will be giving away an item every day for a whole week (9 days really) following Free Slurpee Day. After the free slurpees on Friday, the rest of the freebies require the download of a 7-Eleven app. After downloading, show your smartphone to a 7-Eleven clerk on the appropriate day for these freebies:
Friday, July 11: Slurpee (no app required) (see kosher flavors below)
Saturday, July 12: Big Gulp (most sodas are kosher)
Sunday, July 13: M&M's Birthday Cake Flavor Candies (OU-D)
Monday, July 14: Grandma's Cookies (OU-D)
Tuesday, July 15: Twinkies (Not Kosher)
Wednesday, July 16: Snickers or Twix Ice Cream Bar (both OU-D)
Thursday, July 17: Quaker Chewy Yogurt Snack Bar (Not Kosher)
Friday, July 18: Pillsbury Cookie (Not Kosher??)
Saturday, July 19: Small Slurpee (see kosher flavors below)
KOSHER SLURPEE FLAVORS 2014
This list is from the CRC and updated as of 7/1/2014 for all USA 7Eleven stores. Scroll down for the Canadian list.
THE FOLLOWING SLURPEE FLAVORS ARE NOT CERTIFIED KOSHER:
HORCHATA OLÉ
ORANGE BANG SMOOTHIE
STRAWBERRY TWIZZLER
MONSTER BLACK
TROPICANA GRAPE WILD STRAWBERRY
THE FOLLOWING SLURPEE FLAVORS ARE CERTIFIED KOSHER:
Slurpee Brand

Recommended Flavors & Comments

Barq's
Crème, Floatz, French Vanilla Cream, Red Creme, Root Beer, Caffeine-Free Root Beer, Diet Root Beer, Delaware Punch, Diet French Vanilla Creme, Diet Red Creme Soda

Coca Cola (United States)

Black Cherry, Coca Cola Classic, Vanilla, Cherry, Diet Frost Cherry
Coca Cola (Canada)
SCROLL DOWN
Cafe Latte
This is kosher and pareve! Includes Hazelnut
Crush (Canada)
SCROLL DOWN
Crystal Light
Apple Mango, Berry Pomegranate,Cherry Limeade, Lemonade, Lemon Lime, Orange Pineapple Ice, Passionfruit, Peach Mango, Raspberry Ice, Raspberry Lemonade, Strawberry Kiwi, Strawberry Banana, Tangerine Lime, Wild Strawberry
Dr. Pepper
Dr. Pepper, Cherry Vanilla, Sour Patch Kids
Fanta (United States) Banana Split and
Pina Colada are Dairy (Cholov Stam)
Apple, Banana, Berry Blaster, Berry Lemonade, Birch Beer, Blackberry, Blackberry Pomegranate Blitz, Berry Citrus Slam, Blue Cherry, Blue Raspberry, Blue Vanilla, Cherry, Ginger Ale, Grape,Green Lemon Lime, Green Melon, Kiwi Strawberry, Kumquat Orange, Lemon Creme, Lemon Meringue, Lime Vanilla, Mango Kick, Mango Melon, Mango Passionfruit, Mixed Berry, Oddball Orange, Orange, Orange KZ3 Battle Fuel, Orange Cream, Orange Xplosion, Peach Raspberry, Pineapple, Pomegranate Passion Fruit, Purple For The People, Strawberry-Banana, Strawberry Creme, Strawberry Lemonade, Strawberry Lemonshade, Strawberry Pineapple,Sugar-Free Lite Cherry Limeade, Sugar Free Lite Strawberry Banana,Sugar Free Lite Mango, Sugar-Free Lite Mango Lemonade, Sugar-Free Mango Passionfruit, Sugar-Free Pineapple Coconut Lime, Sugar-Free Watermelon Punch, Summertime Lime, Super Sour Apple, Super Sour Cherry, Super Sour Watermelon, Super Watermelon, Vanilla, Watermelon, Watermelon Lime White Cherry, Wild Cherry, Wild Cherry-Reduced Calorie, Yumberry
Fanta (Canada)

SCROLL DOWN
Fruit Works
Apple Berry Blast, Blood Orange Lime Freeze, Blue Raspberry Freeze, Melon Berry Blast, Orange Cream, Red Cherry Freeze, Twisted Citrus, White Cherry, Wicked Apple
Full Throttle
Frozen Fury, Iron Man Invisible Orange
Hawaiian Punch
Berry Lime Blast, Berry Limeade Blast, Blue Lightning, Bodacious Berry, Fruit Juicy Red, Green Berry Rush, Lemon Berry Squeeze, Mazin Melon, Polar Blast
IBC
Root Beer, Sour Apple, Strawberry, Watermelon
Jolly Rancher/ Yo-Cream
see Yo-Cream below
Laffy Taffy
Mango Melon
Mango Bango
Tea, Totally Wild Cherry
Master Chill
Bruisin Berry, Cafe` Latte, Cherry Limeade, Lemonade, Purple Vanilla S'Crème, Raspberry Acai, Red Licorice, Sour Blue Raspberry, Sour Green, Sour Strawberry, Strawberry Creme, Vanilla Crème, White Plum Grape
Master Chill (Canada)
SCROLL DOWN
Mellow Yellow
Regualr
Minute Maid (United States Only)
Blue Cherry, Blueberry, Cherry, Grape, Lemonade, Orange, Peach, Pineapple, Raspberry Lemonade, Strawberry
Minute Maid (Canada)
SCROLL DOWN
Mountain Dew
All flavors are Kosher
Mystery Airheads
Blue Raspberry, Yellow
Pepsi
Blackberry Lime Freeze, Mango Sorbet, Pepsi, Red Apple, Sugar Rush, Sugar Rush Vanilla Cream (pareve), Wicked Apple Freeze.
Diet Pepsi is Kosher Dairy.
Sierra Mist
Regular, Ruby Splash Freeze.
SLURPUCCINO
Cafe Latte, Hazelnut
Snow Bawl
Energy Slurpee
Sprite
Sprite 6 by LeBron James, Snowball Blast, Sugar-Free Sprite, Sugar-Free Sprite Cranberry
Squirt
Sunkist
Orange, Orange Float (This flavor is only recommended as a Slurpee)
Tropicana Twister
Blue Raspberry Rush, Black Cherry Lemonade
Vernors
Yo-Cream/Jolly Rancher


All are dairy (Cholov Stam)

Chocolate Custard, French Vanilla, Froyo Shake Vanilla,
Ice Breaker Cherry Apple, Ice Breaker Blueberry, Ice Breakers Peach Dragonfruit, Lite Chocolate Ice Cream, Lite Vanilla Ice Cream, Pina Colada Smoothie, Vanilla Custard, Vanilla Ice Cream, Very Berry Smoothie
7Eleven CANADA
This list is from the COR and updated as of 2013 for all Canada 7Eleven stores. 
THE FOLLOWING SLURPEE FLAVORS ARE NOT CERTIFIED KOSHER IN CANADA:
CRUSH BLUE BUBBLE GUM
CRUSH PINK BUBBLE GUM
CRUSH LIGHT GRAPE
CRUSH LIGHT ORANGE
THE FOLLOWING SLURPEE FLAVORS ARE CERTIFIED KOSHER IN CANADA:
Slurpee Brand

Recommended Flavors & Comments

Barq's
Crème, Floatz, French Vanilla Cream, Red Creme, Root Beer, Caffeine-Free Root Beer, Diet Root Beer, Delaware Punch, Diet French Vanilla Creme, Diet Red Creme Soda

Brisk

Iced Tea, Lemonade, Raspberry Tea, Strawberry Melon
Coca Cola
Regular flavor only
Cafe Latte 
This is kosher and pareve! Includes Hazelnut.
Crush 

Crush Blue Raspberry, Crush Cherry, Crush Light Cream Soda, Crush Lime, Crush Strawberry Limeade

Dr. Pepper
Fanta


Banana, Blue Raspberry, Blackberry Lemonade, Grape, Kiwi Strawberry, Lime, Lime Vanilla, Mango Melon, Orange Lime,  Pomegranate Passionfruit, Sensation Berry, Sour Apple, Super Sour Cherry, Watermelon, Watermelon Lime, White Peach, Yumberry Blackcurrant, Yumberry Cherry, Yuzu Berry Punch

Master Chill
Minute Maid 
Orange Soda
Mountain Dew

Mountain Dew Citrus Charge, Mountain Dew Code Red, Mountain Dew Supernova, Mountain Dew Voltage

Mug
Root Beer
Pepsi
Blackberry Lime Freeze, Mango Sorbet, Pepsi, Red Apple, Sugar Rush, Sugar Rush Vanilla Cream (pareve), Wicked Apple Freeze.
Diet Pepsi is Kosher Dairy.
Powerade

Ice Berry Blitz

Sierra Mist 
Regular, Ruby Splash Freeze.
Sprite 
Sprite 6 by LeBron James, Snowball Blast, Sugar-Free Sprite, Sugar-Free Sprite Cranberry.
7-UP