UPDATE 10/22/14: According to both Yelp and avid YeahThatsKosher readers, it appears Shuk Mediterranean has closed.
Heading to downtown Brooklyn?
Shuk Mediterranean Cuisine is a quaint fast-food place in Downtown Brooklyn that is well known to the kosher-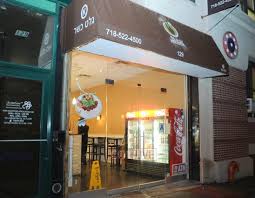 keeping businessmen and locals, but not well known beyond the area. It's only open on weekdays, and it delivers, so it's easy to see why the locals view it as a go-to for lunch at work.
Some menu items include chicken wings and hummus shawarma appetizers, minestrone soup, a salmon salad & a steak salad, and a bunch of sandwiches.
According to their reviews on GrubHub, their delivery is quick and their food is tasty!
Shuk Mediterranean Cuisine is under the kashrus certification of the OK.