UPDATE: EIGHTEEN IS NOW OPEN FOR BUSINESS.
Eighteen, a Glatt kosher  deli grill with sushi on the Upper East Side on Manhattan, is currently undergoing renovations, so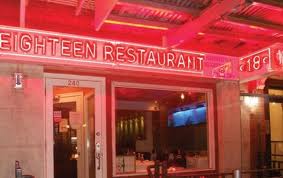 their seating area is closed for now. We expect some exciting new changes for them, and will keep you posted as we get the scoop!
In the meantime, their kitchen is still open for business, so you can order online and have it delivered!
Source: Great Kosher Restaurants