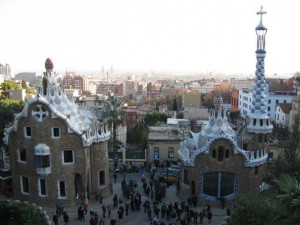 Contributed by Bethany Mandel | Last date of travel: December 2011
Kosher Info: In December I went to Barcelona and Rome for a week total for my honeymoon. We spent the first part of the week in Barcelona. We came prepared with a suitcase full of food because prior research, including an email to the local Chabad, indicated there was next to nothing in the way of Kosher food in the city.
There's one Kosher supermarket in town,
Isamar Kosher
, near what appears to be the main shul for the frum residents of the city. It was outside of the tourist area but
accessible on the subway and bus
. We took the funicular (the FGC) to the station "parada Muntaner" and walked a few blocks to the supermarket. A
prior entry on this website
indicated there was a place to sit after ordering food from their takeout department, but that is no longer the case. The supermarket had two parts: a one-room market with staples that were flown in from Israel, and fridges and freezers filled with meat and cheese. The
market area
only had crackers and cookies by way of ready to eat food, everything else had to be prepared. The cheese selection was decent and we regretted not getting a baguette and some cheese for later.
The take-out section (
picture
) had two entrees and a few side dishes – a pretty paltry selection. They offered to heat it up for us and we walked around trying to find somewhere to eat until we found a KFC. We snuck downstairs and ate our Kosher stash in one of their booths. Tres romantique.
The Isamar website is very sleek, but don't be fooled. According to the site they also apparently do Shabbat meals, but I would plan ahead with them to arrange that and make sure it's still available.
One big word of caution: In France I've heard that all bread is automatically Kosher. This is not the case in Spain where the secret ingredient in most pastry is pork lard. Even if you normally are comfortable eating out dairy while traveling I wouldn't suggest doing so in Spain.
Jewish Info:
While we were touristing in the city (in the Jewish quarter) we visited a few Jewish landmarks – a
newly discovered synagogue
that's the oldest in mainland Europe. We had a local friend guiding us around, if we hadn't, we might have walked right by it. They had tour guides there speaking at least English, Spanish and Hebrew and it was two Euros to get in. It was very small but interesting. They also had a cute tiny gift shop area where we actually bought things.
There was also a Chabad gift shop in the Jewish quarter also and they had some chocolate and a large selection of Kosher wines. That gift shop appeared to be totally imported from Israel, however. We didn't end up buying anything but chocolate to snack on while we were walking around the city.
There was a cafe called Caelum in the Jewish quarter that our local guide told us was built on top of the city's old mikvah. They open the bottom part only for a few hours a day (when we were there it was around 3pm when they opened it). It was a nice place to get a coffee but you otherwise couldn't tell its ancient origins.
This is a picture
of me in the mikvah (not often I get to say that!).