Earlier this year, I flew KLM/Delta to Israel, with a nice 8+ hour stopover in Amsterdam. I liked this option as it gave me the opportunity to leave the AMS airport and explore the city.
In the short time there I managed to figure out exactly how to (using public transportation only) get to the Jewish area to find the Kosher restaurants, head downtown, find a couple attractions, and get back to the airport in time for my flight to TLV.
Now I'm hearing more friends opting to take this route, since it's a cheaper option to flying El Al, and it offers a short European excursion…. and it doesn't hurt that flying KLM is an amazing experience!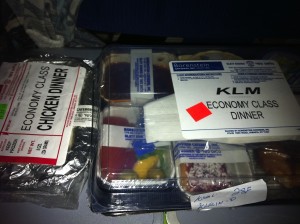 Flying on KLM, we were offered fairly large kosher meals from Borenstein Caterers, and they were pretty good all things considered. Remember to call your airline the week before your flight to confirm that you will have a kosher meal on EACH leg of your trip. (If you have a stopover in each direction, that's 4 legs).
When we arrived at AMS around 12pm local time, we took our carry-on luggage and deposited it in one of many lockers in the airport for about €5. Be sure to remember exactly where that locker is, because we got lost trying to find it on our way back.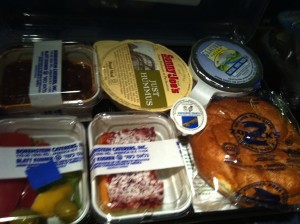 Inside the airport there is a huge train terminal, with intercity trains leaving every few minutes. Trains can take you into Amsterdam, around Holland, or even south to Brussels, Antwerp, and Paris.
We headed directly to the Kosher restaurant area, and ended up eating at Golan Grill in the Jewish neighborhood south of the city. Here are exact directions there. You will end up taking a local train and then switching to an above ground tram. Once you figure out which train and track you need and buy your tickets, the trip should take ~40mins. Maybe a little longer if you get lost. For this first train, you want to buy a ticket to "Amsterdam Zuid", which was not apparently clear to us originally, and shouldn't cost more than a few Euro. Once arriving at Amsterdam Zuid, you will buy tickets for the tram. If you follow my itinerary here, you will only need two rides on the tram per person. One to the Jewish area, and one into the city.
View Larger Map
Important Tip for Americans: Using your American credit cards will not work when buying tickets from machines at AMS (or from most machines in Europe for that matter). These machines only accept credit cards with a "chip & PIN", which our cards do not have. You can use your Debit card, which has a PIN by default.
Golan Grill is a small, clean, Israeli style restaurant. Since we didn't speak Dutch, we spoke to the owner in Hebrew. We had shwarma in pita, which was very different from what I'm used to, and it came with some interesting toppings. Click here to see their menu.

View Larger Map
Down the street from Golan was a Kosher deli / market / eatery called Mouwes (they have a few tables in the back, but at first glance, it does not appear to be a sit down place).
From there we headed into the city via tram. We wanted to walk around and see the sights, but given the fact that we needed to be back in the airport in a few hours, we chose one site to visit: the Anne Frank House. See map to the right for exact directions from Golan Grill to the Anne Frank House.
Once we arrived at the Anne Frank House, there was a line to get in and pay. Forewarning: The house is very narrow and you'll be doing some climbing in very narrow staircases. If you have extra time, you're about a 10+ minute walk from the center of town and tons of museums and other sites. Unfortunately, we needed to be back in the airport as our flight was leaving within the next 3 hours. We walked to the central train station: Amsterdam Centraal, which was a nice ~20 minute walk through central Amsterdam. See the map below for walking directions. If you have extra time, and want to check out the Spanish-Portugese Synagogue, you'll need to take another tram across town (approximately 15 minutes). Click here for directions from the Anne Frank House.
Once at the station be sure to buy tickets to the airport which is a fairly short ride and only 1 or 2 stops. The trains pull up underneath the airport and relatively close to the lockers where you may have stored your carry-on luggage.

View Larger Map