[Guest Review by Heshy Fried of FrumSatire.com]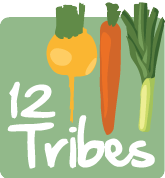 12 Tribes Food is the latest addition to the Bay Area's growing list of kosher prepared food. About two weeks ago, 12 Tribes moved into the kosher kitchen at the JCC in San Francisco and is now providing Glatt Kosher organic packaged meals for sale in the JCC Café on the ground floor. The meals, available in the refrigerated section at the JCC Café are made available 5 days a week and they are made from all organic and local produce, all of the meat and chicken used is organic and pasture raised – purchased from Grow and Behold. The packaging is all compostable and everything is made from scratch.
San Francisco, for having such a large population of Jews (about 80,000) has a surprisingly small amount of kosher food. There are two restaurants a number of caterers, including 12 Tribes and not much else. The Bay Area itself has a dearth of kosher eating out options and I've been told by numerous folks that having kosher food in a notoriously secular JCC is a really big step in bringing a more diverse and hopefully more orthodox presence into the JCC.
The food is very Northern Californian, the produce is all local and organic, everything is seasonal and the stuff is so delicious – it doesn't need any seasoning. The chicken I had tonight was the juiciest I've ever eaten and it was only roasted with salt, pepper and oil – and small amounts compared to my restaurant roasting experience. Last week I discovered dry farmed early girl tomatoes and I'm totally in love and this week we had the most pungent and bright carrots I've ever seen.
Becky Joseph, the founder of 12 Tribes Food, is the Jewish "Alice Waters". Like Alice, Becky firmly believes in using the best ingredients and she is not willing to compromise, this is despite the fact that kosher meat already very expensive is almost double the price when you tack on pasture raised and organic to the price tag. We only use non-industrial brown eggs and this means that almost half of them are rendered non-usable by blood spots, luckily we have a baker next door that can take them and we don't have to feel guilty of so much waste.
Besides for providing packaged kosher meals to the JCC Café in San Francisco, 12 Tribes also does catering has this unique dinner culture CSA in which you can buy shares and get dinner once a week – now on Wednesday's. I took this job to learn more about food and use my technique and knife skills to help make me a better cook and eventual chef and I'm getting more than a bargained for – Becky's known for her baked goods and just today I helped bake cookies, brownies, shortbread and lemon tarts for Daniel Gouridis and Calvin Trillun, both guest speakers tonight at the JCC – potentially also catering for Tom Brokaw, Bill Bryson and Taj Mahal, all of whom are coming to speak at the JCC in the near future.
Check out their packaged kosher meals in the JCC Café in San Francisco or visit them on the web to place an order, cater an event or chat about food.
Located in the Jewish Community Center of San Francisco at 3200 California Street, San Francisco, CA 94118