This was my first ever Pesach not at my home (or parents' or in-laws', etc.), but I now understand what one of my family said over dinner one night, "I can understand how a program like this could put you off making Pesach at home forever."


The Food
An unlimited supply of meats and fowl were a scrumptious greeting to the dining hall. Beef, lamb, chicken, duck, and goose made their way onto the menu over the course of the holiday. There were multiple options at every meal (mostly buffet-style but plated for the Seder and Shabbat dinners), so you could satisfy your tastes no matter your mood. For children, my daughter asked for hot dogs every day and indeed they had (even by request for plated meals), but she also ate a lot of their less-spicy steaks and chicken, and even some vegetables. Maybe I just have an excellent daughter. I found most everything to be delicious, though my wife was less impressed with a lot of their leftover-redone meals in the later days that came in overcooked or too salty. So I just finished the food from her plate too. What can I say, I'm a meat-eater.




Then again, my wife prefers dairy to meat. Which worked well too, since that's what breakfast was for. Full-service omelet station, several buffet stations for breakfast "mains", and plenty of fruits, vegetables, and cheeses (though, surprisingly, cheese factored very little into their prepared foods). Fish came out for the dairy dinners on Yom Tov afternoons, carefully placed 6 hours after the meat lunches.
Three meals were included for every Yom Tov and Shabbat day, and two for Chol Hamoed. Each day included a Sweet Hour, featuring the desserts of the day and fresh fruit. These desserts (which also appeared at every meal) included an assortment of jellos, mousses, coconut and fruit cakes, and dairy and pareve ice creams.
This program was not advertised as non-Gebrokts, but was certainly non-Gebrokts friendly, with matza balls served from a separate bowl from the soup and really very few matza meal recipes.
Somewhere, in the back of my mind, I feel bad that I didn't eat any Matza Pizza this year. But they did have Crispy-Os available for breakfast!
The Program
My family was brought here by my grandfather, who does this yearly to celebrate Pesach with his Israel family. So our goal was a common location to gather and relax, maybe taking in a few activities and otherwise enjoying the beach. The Davidman program fit that bill quite nicely. There was always a small something going on (be it day hikes, classes, concerts, or kids' pool parties), but we never felt pressured to be anywhere in particular. A couple of premium activities were available, but again no pressure (though advertisements for the hotel's spa were plentiful).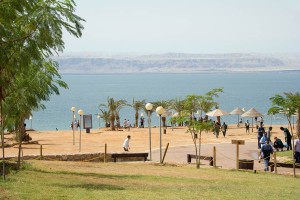 My wife enjoyed sleeping in almost every day and just getting to experience the hotel, family, and the Dead Sea, and my daughter had a great time at the mid-day kids' pool events, including bouncy houses and free ices. Movies were shown for older kids and at night for adults. Basketball, tennis, and beach volleyball were also on site, though not always organized. I personally am more of a get-out-and-do-things vacationer – for which this program would have slightly disappointed – but we definately fulfilled our goals as a larger family.
Religious-affairs-wise, Daf Yomi Shiur was given every day by a scholar in residence, and second-day Yom Tov was supported as well (separate Davening and meals). Also of note is that private Seders were also available (separate room until Shulchan Orech), which we took advantage of so our family could all hear each other. I am told the main dining room was simply very loud, given every table being up to a different Seder stage at any given time.
Overall, a schedule was given out in each room packet, and it was well thought out and maintained its timing and accuracy throughout the holiday. Lenny Davidman himself was staying with us and made sure everything worked out properly.
The Hotel
I have no method of comparison, but I am told that the Leonardo Plaza Dead Sea is older as hotels go. It certainly still had old Sheraton signs scattered throughout the hotel. It was not a luxurious hotel, but it had plenty of amenities. In-room had a fridge, TV, sea-facing balcony, and availability of cots and cribs, while the hotel itself had a big pool, kid pool, playground, indoor clean-sea pool, and private Dead Sea beach, in addition to a huge dining hall, small Shul (main Shul was set up in a tent special for the program), and pay wireless internet.
The staff was quite friendly, especially the wait staff who undoubtedly had to deal with hundreds of special requests. Many English-speakers, as the program was advertised as English/American-friendly. In the end, the hotel didn't make or break the program overall (and indeed the Davidman program has been at other hotels in the past).
Conclusion
My trip was sponsored, so I can't say whether or not it was worth every penny, but we certainly had an excellent Pesach. We were able to sit back and relax, sleep in, eat heartily, and spend lots of quality time with four generations of family. It was a useful touch that the organizer spent all of Pesach attending his own program, and it helped any little glitch get fixed quickly.
Links
Lenny Davidman Events – http://www.ldevents.com/
Pesach Page (as of posting, still with 2011 information) – http://www.ldevents.com/Pesach.html
Leonardo Plaza Dead Sea – http://www.leonardo-hotels.com/israel-hotels/dead-sea-hotels/leonardo-plaza-hotel-dead-sea