Contributed by: Aviron | Last Date of Travel: June 2005
Kosher Info: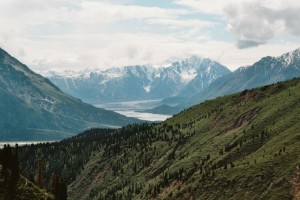 The large supermarket in Whitehorse carried a surprising variety of kosher bread, pies, snacks and a plethora of canned fish with an assortment of US and Canadian kosher supervision symbols. It supplemented the usual kosher provisions that we take on trips out of the Jewish travel-sphere.
Travel Info:
Yukon is one of Canada's 3 territories located in the northwest corner of the country, bordering Alaska to the west and the Northwest Territories to the east. It is larger than California. The population is small; the land is big, wide, bright (in summer) and startlingly empty. Two thirds of Yukoners live in the capital, named Whitehorse by early settlers because the swirling mists over the wild Yukon River reminded them of the flowing manes of galloping white stallions.
Whitehorse International Airport has 2 daily flights from Vancouver and sporadic flights from some northern Canadian communities. We rented a car and headed west towards Haines Junction, YT. The famed Alaska Highway is a well-paved 2-lane blacktop connecting British Columbia and Alaska. The road was built to protect the area from Japanese invasion during WWII.
Haines Junction is about a 2-hour drive from Whitehorse. Once you leave town, there are no traffic lights. There is no traffic. The only reason to stop is to gape at the scenery, because gaping and driving do not mix. This area is draped with green forests and sweeping snowcapped mountain in all directions. Throw in some emerald lakes and rushing glacier-fed rivers and you get the idea. The Yukon Department of Highways has wisely placed scenic turnoffs along the road to allow everyone to stop and breathe in the beauty.
Haines Junction is the first town west of Whitehorse. Its population is about 800. It is located at the junction of the Alaska and Haines Highways, hence the name. In addition to some houses ranging from shacks to lovely homes, the town has a general store/post office/bank, an upscale café, 3 motels, a school, a sports facility, gas stations and a brand new convention center, all surrounded by those omnipresent snowcapped mountains. There is a traffic signal at the actual intersection to handle all the activity. Our motel, the Alcan, (http://alcanmotorinn.com) faced a ridge of craggy mountains. The room was clean, modern and comfortable, with microwave and fridge. The view was always magnificent, as the colors and clouds and angle of the sun changed during the very very very long days. At 11PM we closed the shades to keep out the sunlight and went to sleep.
Due to its central location, Haines Junction also serves as the headquarters of Kluane (KLOO-AH-NEE) National Park and Reserve which encompasses the entire southwest corner of the Yukon, including Canada's highest mountain peaks. At the visitors center we were able to get good information on what highlights the park offered. No roads enter the park, but the highway travels along its eastern flank. From the road, there are many trails from a half-kilometer to 7 days in length. We chose a few that led to lakes. We were not warned us about mosquitoes, but now you have been. As a precaution, we always made noise to scare away the bears. And we saw bears. They were just off the road, placidly munching on dandelions. They didn't seem to mind when we stopped the car and got out to take a closer look.
Our second day in Kluane, we drove north to a different section with different topography. This area is drier, higher and windier. No mosquitoes. We selected the recommended 5km hike called Sheep's Creek. It was tough going with steep switchbacks, narrow paths and little shade. But the views as we climbed higher and higher were spectacular. Rows upon rows of mountains reflected the sun off their icy slopes in a 360 degree panorama. Glaciers. Waterfalls. Flower-filled valleys. We picnicked alone on the peak until some hikers from Belgium joined us. The walk down was quicker.
Back in the car we headed next for the log cabin ghost town of Silver City. It is hardly mentioned in guide books, and not on any maps, but we managed to find it after a few wrong turns. Secluded in a small forest, near a lake, this "town" was abandoned in 1920 and left to the elements. A few buildings remain in various stages of collapse, but there was still enough left to get an idea of what it must have been like.
Backtracking via Whitehorse – there are no other roads – we drove into the Yukon's Deep South, and the scenery actually improved. Bigger mountains, larger lakes, grander vistas. We stopped for a self-heating lunch (www.labriutemeals.com) in the small settlement of Carcross, an old town full of souvenir shops and a modern visitor's center, plus vintage trains and an historical wooden railroad bridge. Driving further south, towards the Alaska panhandle, the terrain took a very bizarre turn. The valley floors became filled with small lakes connected by creeks and little waterfalls. Mossy rock mounds rose and fell. The trees seemed dwarfed, but the panoramas were huge.
Yukon was an amazing and easy outdoors experience.