Contributed by: Aaron Steinberg | Last Date of Travel: August 2008
Kosher Info:
There was not a lot of Kosher food to be found in either of these destinations. Our plan was to camp out for two nights in the Adirondacks (upstate NY), then drive to Vermont and spend two nights in a resort hotel.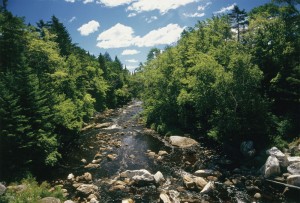 We packed most of our food with us from New York. We brought your normal camping food (burgers, bread, peanut butter, veggies, condiments, eggs, snacks, trail mix, and more) with us in the best wheeled cooler we could find, and grocery bags. We also made another stop on the way: to purchase AR-15 magazines in case we got lucky with a deer or two. Kosher camping is so simple and fun, and I truly recommend it for anyone who is considering.
We lived pretty simply for those days, and our only treat was when we went to Lake Placid, NY (site of both the 1932 and 1980 Winter Olympics). This quiet town has a Ben and Jerry's ice cream shop, and a Starbucks.
After two days of eating like this, we needed some sort of break. Driving into Vermont, we went to the one Kosher establishment we could find (aside from home hospitality in Chabad): Shaws Supermarket (570 Shelburne Rd. Burlington, VT 05401). What we found there was frozen delicacies like pizza and knishes. With our trusty sandwich maker, we were prepared to turn our 4-star hotel room into a gourmet kitchen.


The final Kosher treat of our trip was the Ben and Jerry's Factory Tour. While the tour is more than it's hyped up to be, there's nothing like driving 8 hours to wait in a longer than usual line to buy some Ben and Jerry's Ice Cream.
This trip reminded us that sometimes Kosher traveling isn't about planning a trip around OU establishments, and is rather a challenge to go anywhere and make it work your own way.

Tourist Info:
We left New York, and drove about 8 hours north into the Adirondack Mountains. We headed straight to the campsite we had reserved, and rushed to setup our tent before night fell.
We spent the next day really enjoying Lake Placid which is really an amazing little town. It has the feel of a hippie college town with just a bit too much tourist influence. There is beautiful nature everywhere, with great lakes and places to bike/hike around. It also has some amazing Olympics-related experiences including a dry-run of an Olympic Bobsled track (a bit pricey), rifle shooting on the actual Bi-athlon range (totally worth the $10-$15), and bunch of other Olympic venues such as Ice Rinks, the Ski Jump and much more. We were actually able to check out a womens "Pro" hockey game for $6 while we were there.
After sleeping another night at the camp site, we drove a few miles north and caught a ferry across Lake Champlain over to Burlington, VT. The ferry ride was a fun 45 minutes or so, but it was a bit too cold to sit outside and really enjoy the ride. After arriving in Vermont, we headed over to the Kosher aisle of the Shaws.
For the final leg of our trip we drove to Stowe, VT (Ski country during the winter) and stayed at Stoweflake, which is an amazing resort spa. We just chilled out and enjoyed the beautiful room, wonderful grounds, and nice spa treatments.
We checked out some of the local sights which included some small unique stores in Stowe itself, and of course the Ben & Jerry's Factory tour. Warning: If your goal in traveling to the Adirondacks/Vermont is to avoid Jews (as ours was) this will ruin everything – the place is packed with frum Jews of all flavors. It was still worth visiting, although the tour is pretty meager.
The drive back from Vermont through Massachussets to New York is beautiful, and the most amazing landscape I have ever driven through can be found in southern Vermont. This is definitely a great destination for people who can appreciate nature.