Contributed by M.A. | Last date of Travel: January 2008
Kosher info: There are no kosher restaurants in the Galapagos Islands, not even vegetarian or vegan ones. The only options for the kosher traveler are to go with an organized tour, like Ecuadorkoshertours.com, or to bring along food. Fresh produce is available at the market place in Puerto Ayora, Santa Cruz. Drinking
bottled water is a must to avoid the "turista". One can get bottled water, as well as canned vegetables and pickles in the local supermarket on Darwin Street. This trip is certainly not for those seeking a culinary experience!
Tourist Info: The Galapagos Islands are an archipelago of about twenty islands situated at about 1000 km. off the coast of Ecuador. It is there that Charles Darwin got the inspiration for his revolutionary theory of evolution, after his visit in 1835. He studied the local flora and fauna for five weeks. To this day, the animals on the islands are notoriously fearless and let themselves be approached by humans. Apparently, there were never any predators on the islands, and the animals didn't develop the instinct of fear. A very good book that reconciles the thorny issue of evolution with Judaism is The science of God, by Gerald Schroeder. He is a proponent of evolutionary creationism or theistic evolution, meaning that G'd created through evolution.
Gabrielle and I took a Lan airlines flight to Guayaquil, Ecuador, and from there a 1 1/2 hr. Aerogal flight to Isla Santa Cruz, one of the main islands. We stayed at hotel Solymar, one of the many bed and breakfasts in Puerto Ayora. Puerto Ayora is a small, sleepy fishing village with many bed and breakfasts (some are as cheap as $15 a night), trinkets stores, cafes, restaurants, and riotous vegetation: orange blossomed acacia trees, purple and pink bougainvillea, and bright red hibiscus.
Hotel Solymar didn't have any T.V.'s, but it did had WiFi. It's waterfront patio was a gathering place for local wild life: Darwin the sea lion slept around the pool, a disabled pelican hobbled around the kitchen, begging for scraps of food, a great blue heron pranced around the pool, posing for pictures, bright orange sally lightfoot crabs scurried around the rocks, iguanas lounged around the lounge chairs, black frigate birds circled high in the sky and squadrons of blue footed boobies circled in the air before diving into the water like live rockets in search of fish in a perfectly choreographed ballet.
On day 1, we hiked to Tortugo Bay, a deserted beach of white sand and azure ocean. The only visitors were marine iguanas and sea lions. When we approached the iguanas, they started nodding and stuck their tongue out at us. I learned later that this was a warning from the males not to approach their females. Human, err..animal behavior is so weird! We swam in the ocean with a sea lion, who kept clapping his fins.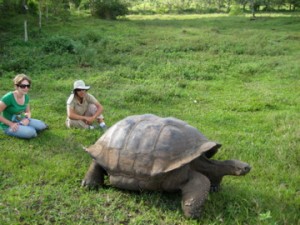 In the afternoon, we took a tour of the highlands with a private guide, Blanca. This is where the notorious giant tortoises dwell. They are truly enormous and move in slow motion. Their faces inspired Steven Spielbergs character of E.T. Observing them from so close in the wild was the highlight of our trip.
On day 2, we took a day trip to a different island, Bartolomé. I got sea sick on the boat. The waters are very choppy in the Galapagos Islands, something to consider if you opt for a cruise trip. Bartolomé is a deserted island. It is famous for it's penguins. We snorkeled a bit in the bay, but didn't see much .
On day 3, we went to another deserted island, North Seymour. We saw a magnificent frigate bird, with its red pouch under its bill blown up like a big red balloon. This is done to attract the ladies frigate birds. We also saw the Galápagos Islands' most famous inhabitants: the blue footed boobies. They were sitting on their eggs on the ground inside a white circle that delineated their territory. It made me think of a white picket fence. They were so tame, that we could have touched them, but we were not allowed.
Once we got back to Brooklyn, New York, the magic of the Galápagos quickly evaporated in the polluted air of civilization.
Jewish Life: There is no Jewish life in the Galápagos, to my knowledge. The owners of the hotel Solymar are Renato and Adi. Renato is Ecuadorian and Adi is Israeli. We spoke in Hebrew. There are also quite a lot of Israeli tourists there.