Contributed by: Sivia Kahn | Last Date Visited: October 2006
Kosher Info: It is true that Greece is not a kosher paradise: its population of about 3,000 Jews, does not represent a strong enough market incentive for food companies to invest in kosher accreditation, nor are there any kosher restaurants. There are however options available to the hungry Jewish travelers. The Greek cuisine, being typically Mediterranean, offers a wide variety of vegetable-only dishes, so it is possible to avoid meat or dairy altogether.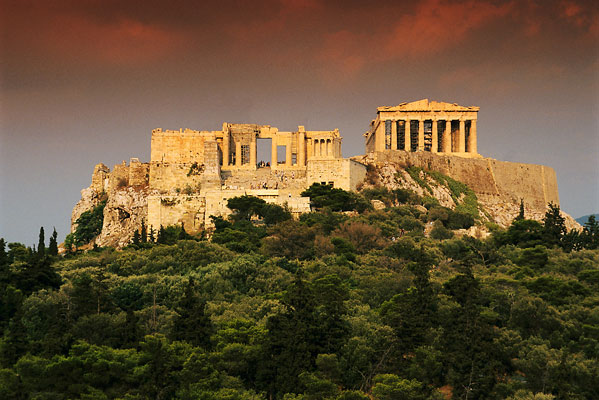 Another option is the only vegetarian restaurant of Athens, Eden, near the city centre. It is possible to have a kosher meal at the Cultural Centre of the Jewish Community of Athens, from mid-October until mid-June. From Mid-June till October, prior arrangement with the Chabad of Athens, one may also enjoy a home-cooked meal at Rabbi Hendel's. The visitor will find a wide variety of kosher products in most supermarkets, but should check the labels for the international symbols, K, ΟΚ, ΟU, KF, or KLBD.
Bread in Greece is usually pure wheat flour and may therefore kosher. There are butcheries that sell kosher meat, but not exclusively – therefore check for the Magen David stamp. Keep in mind that the meat is neither soaked nor salted. Kosher wine, imported from Israel, is available at the Jewish Community's offices. There is one kosher catering service, which offers Greek and international menus, under the strict supervision of Rabbi Mendel Hendel. For a complete list of kosher products and kosher fish please go to www.chabad.gr (Just a side note: all plain coffees are kosher and as there are millions of coffee shops including a Starbucks in Athens you will have no problem staying awake to see all the sites).
Tourist Info: The Acropolis, arguably the most famous of Greek sights, is pretty hard to miss since it is always looming overhead wherever you might be. The city of Athens is made up of several small mountains (like the city of Jerusalem) and the city center (in the Plaka district) is in the valley between the other neighborhoods. So one must climb up to the Acropolis, where you have the most spectacular view of the entire city of Athens. small suggestion to fellow travelers, one should try to get to the Acropolis in the morning as it can get pretty hot in the day. Once you have taken your fill of pictures you can trek back down and enjoy a leisurely stroll in one of most ancient markets in the world. One thing to note about the city of Athens is that they have a great train and bus system that is easy to use and to get around in. The locals are extremely friendly and helpful. Besides Athens there are many other Islands and cities that have tremendous cultural history to offer and there are many ways to reach them all.
Jewish Info: More than 80,000 Jews lived in Greece before World War II. But after the Holocaust and emigration, there are now an estimated 3,000 Jews in Athens and perhaps another 3,000 elsewhere in this nation of 11 million. Jewish presence in Greece dates at least to the mention by Strabo in approximately 85 B.C.E. that Jews could be found in all the cities of the eastern Mediterranean (VII 7 4). There may well have been Jews, if not Jewish communities, living in Greek cities as far back as the Babylonian Exile (586-530 B.C.E.). After the wars of the Maccabees, between 170 and 161 B.C.E., many Hellenized Jews left Judea and settled in the new commercial centers, such as Alexandria and Antioch, of the Hellenistic world. From these communities smaller groups moved to some of the coastal Aegean cities such as Ephesus, Smyrna, Thessaloniki, and, according to tradition, Chalkis. Jewish communities also may have been founded on Crete at this time. In any case, by the time of the Apostle Paul there were flourishing Jewish communities in most of the major Greek cities. One should and must really do their research before visiting so one can truly appreciate what one might be looking at.