A new shwarma place has opened up in Brooklyn. JG Steakhouse is operated by the same owners as Jerusalem Glatt.
Their menu includes everything you'd expect a shwarma place to have – with wraps, laffas, and pitas. Starters include Moroccan cigars, short rib spring rolls, pastrami egg rolls, chicken wings, rice krispie chicken, pretzel chicken and more.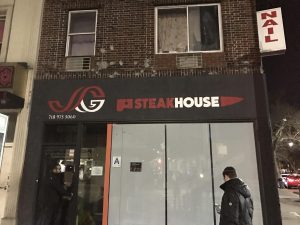 Choose from baby chicken, turkey and lamb, or spicy as your shwarma option.
Sandwiches range from grilled or cornflake chicken, classic or spicy schnitzel, Philly or classic steak, falafel, JG or classic burger, or hotdogs. Fill them with hummus, tahini, avocado, babaganoush, lettuce, tomato, pickles, Israeli salad, and more.
Entrees available are the bone-in rib steak, baby lamb chops, baby chicken kabobs, shish kufta, or chicken kabobs and others. The open salad bar is included with each order.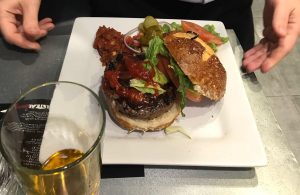 Hours of operation are Sunday-Wednesday 10:30am-10:30pm, and Thursday 10:30am-11:30pm.
JG Steakhouse is certified by the Sephardic Beit Din.