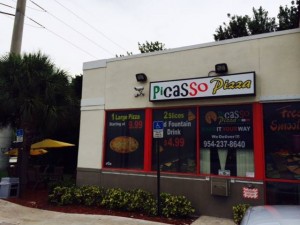 The kosher-keeping community of Hollywood, Florida is abuzz with excitement over the new pizza place that opened a few weeks ago, Picasso Pizza! At $9.99 for an entire pie, this has already impressed locals and visitors.
Picasso Pizza also has super late hours for an "out-of-town" restaurant, open until 1 am daily, Fridays until 5:30 pm and Saturday nights until 3:30 am!! Their Cookie Dough Dough Pie looks pretty darn good as well. With smoothies, create-your-own-sandwich, and over 20 pizza toppings, there really is something for everyone!
Picasso Pizza is under the kashrus supervision of ORB.
Note: Picasso Pizza is located inside a Chevron Gas Station in Hollywood. See map below.