Contributed by: Aviron | Last Date of Travel: ​October 2006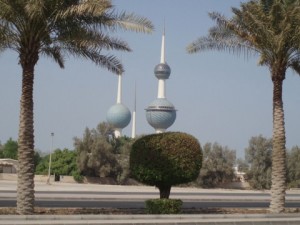 Kosher Info:
This is what you can expect to find 'kosher' in Kuwait:
Pita and dates. The local milk has no pig or camel additives, so would be considered kosher. Hummus and vegetarian Hindu or Buddhist restaurants abound (if you eat at such places). The nearest kosher restaurant is probably in Israel. I don't think they deliver.
Travel Info:
Kuwait City is located directly on the shores of the Persian Gulf. From the original small center of town, still filled with narrow alleys, food markets, and moneychangers, the city has grown to include modern skyscrapers, landscaped highways, oceanfront villas, Starbucks and MacDonald's. Road and street signs are in Arabic and English, but many storefronts are labeled only in Arabic. The main highway in the city parallels the seashore and the public beaches. Beaches may be separate or coed, in which case women must be fully covered in or out of the water. Due to Ramadan, there was no one on the beach during the days I was there.

Downtown Kuwait is a hodgepodge of older building in various states of repair or disrepair and gleaming new high rise hotels and office buildings. The roads are often circuitous and include many roundabouts which I found terrifying. There did not seem to be a distinct city center, just new construction spreading about, engulfing older parts. There are lots of palm trees and empty lots in the middle of it all, which act as parking areas.
I was surprised to see many large American cars on the road. Cars and clothes are status symbols there. I am told that the well-to-do locals buy luxury sports cars to zip about this small country, until they either crash or get bored with them, in which case they just abandon the car and buy a new one. Gas is cheap, of course. The business area is dominated by the 1200 foot tall Liberation Tower, completed in 1996 and named in honor of the "liberation" from Iraq.
My hotel was part of a luxury mall, marina, hotel development. It is a brand new 3-story, 96 room hotel and is the only in-city hotel with a private beach. The room was spacious, modern and very cold. The walk-in shower was cavernous, larger than some NYC apartment kitchens. Every room has a balcony with a sea view.
There are free form pools, lawns, beach activities, restaurants and all the usual amenities. But, as it was during Ramadan, no one would be eating, drinking, smoking, swimming or otherwise enjoying themselves by day. In fact, on checking in, I was graciously warned about the penalties for eating in public, namely imprisonment until the end of Ramadan, and a fine upon release. That said, would I care for a fresh date? Well, it was 10:30 at night, eating was permitted, so I took one. It was delicious. I took another. And another. The next day there was a small blurb in the paper that 3 westerners were arrested for eating in a billiard hall. A local saw them and called the police. These people are serious.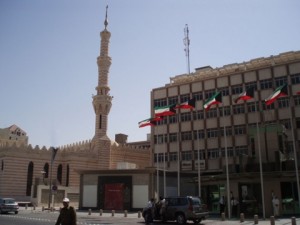 One morning, I visited the adjacent mall. Malls look the same everywhere. Atrium? Check. Marble floors? Check. International brands? Check. Women in head-to-toe black chadors, talking on cell phones? OK, maybe not all the same, though cell phones, clearly, are universal. The storefronts were decorated for Ramadan, with blessings in Arabic and English. Little shopping goes on by day during the holy month, but at night (after iftar meals) shopping is a big activity. In a land with very little fraternization between men and women, the two things that are available to all are eating and shopping. The malls are huge and new ones were being built. These malls provide easy and cheap public entertainment where friends and families can spend time together, without breaking any religious rules.
Kuwait's most iconic structures are the spherical water towers built in 1979 on a spit of land projecting into the gulf. The two main towers look like huge pods growing out of the lawns they sit on. At night they take on a look of brightly lit alien spacecraft hovering over the dark sea. The huge round tanks seem to be resting on concrete supports and are covered in a colorful mosaic pattern.
The uppermost, smallest nodule contains a revolving observatory and cafe. Between the two is a needle-like concrete structure, also remarkably tall, supporting the floodlights that illuminate the water towers. However, walking around the base of the "needle", I only saw two doors, marked "Men" and "Women" which led me to conclude that this is definitely the world's tallest bathroom. I went up to the observation deck one night and the city glittered below, a bit like Las Vegas. From the elevator there was a final stair to climb to get to the revolving deck. Along the staircase were photographs of the very same tower with broken windows, destroyed light fixtures and ripped furniture courtesy, said the caption, of "the barbaric invaders". With some personal satisfaction I noted that Kuwait was using language usually reserved for Israel to refer to its neighbor to the north, which had invaded with unbridled hostility and destructiveness in 1990.
There was not much else to do. I visited a mall built like a desert fortress, albeit with a place in the back to park your yacht.
I passed neighborhoods of enormous private homes. I admired the many mosques that come in all shapes and snuck a peek into one or two. I improved my Arabic reading skills. I enjoyed fresh guava and apricot juices, but had no luck finding a souvenir shop. Ironically, my flight back to the States was filled with US army personnel, serving in Iraq, going home on leave. They did not provide a kosher meal.

Jewish Info:
The long-held belief that you cannot visit most Arab countries if your passport shows visits to Israel is basically a thing of the past. But it is always wise to check with the consulate of the country you are planning to visit. I also checked in advance that I would be able to bring in Jewish religious articles. I hid my tuna cans and granola bars among my clothes just in case. Turns out, nobody checked anything.

A little background: This trip was for work purposes. My business associates in Kuwait were aware that I was Jewish. However, they were not Kuwaiti Arabs, but Indians (Moslem and Christian) and Lebanese Christians. Most of the physical, technical, and hospitality work in the Gulf States is done by immigrant guest workers from Asia, who send their salaries home to their families. I walked about freely (without a kippah, of course) and at no time was I uncomfortable. I admit there is a certain thrill to being in a "stranger in their midst".
I had little interaction with actual Kuwaiti Arabs, but did wonder if they would have been as cordial if they knew I was an orthodox Jew and a Zionist no less? Perhaps they would have been as curious as I was in meeting them face to face. My experiences in the Middle East have convinced me that politics is played up by governments and that most people really don't care enough to get involved. They just want to go about their business and improve their own quality of life.
Follow @YeahThatsKosher on Twitter