Contributed by: Dani Klein | Last Date of Travel: June 2008
These companies operate throughout the Baltic Sea servicing Stockholm, Helsinki, Tallinn, Riga, and more.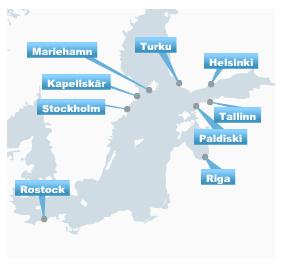 We took a Silja Line ferry (more like a cruise) from Stockholm to Helsinki. We had our own private room and shower since it was a 16+ hr trip.
The ship was clean, the staff was friendly, and the views in the archipelago leaving Stockholm are amazing. The ship has a Playstation video game room for teens or the kid at heart.
While there is no readily available kosher food on the ship, the restaurants were happy to help heat our frozen meals up for us. They also stored our remaining meals in their freezer since we did not have access to one in our room.
The ship also provided some fun nightlife. In addition to a small casino, they also have an after dinner time show, which is typically followed by a live band and an open dance floor.
The only downside to this particular trip was the abundance of non Anglophile passengers. Speaking English to random people in either Stockholm or Helsinki was easy, but on this ship barely anyone knew English. Thankfully we were able to speak to the crew.
We also took the 2 hr ship from Helsinki to Tallinn. This ship does not provide you with a room, but is very comfortable with couches and coffee tables. It also has a few duty free shops for some snacks.
Silja Line / Tallink gave us an overall pleasant experience.