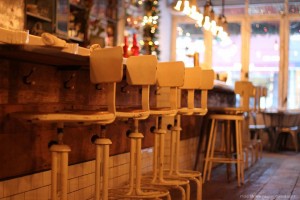 It was around for 15 months. It was popular. It was unique. And now it's gone. The quaint kosher bar on Washington Ave in Prospect Heights, Brooklyn has closed its doors for good. They posted a goodbye letter to their Facebook page today.
Co-owner Sasha Chack explained to YeahThatsKosher privately that he and co-owner Chef Itta Werdiger Roth wanted to focus on their families, but it was a tough decision to make. It makes sense. The two of them ran the show and to run a small business like that, it takes its toll on you and your family.

Chack assured us it was not due to financial reasons as Mason & Mug was profitable.
We expect to hear great things from both Sasha & Itta in the future.
More info to come.