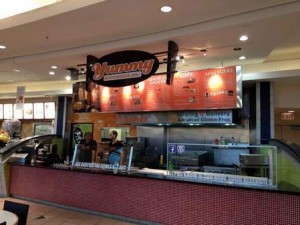 UPDATE 2: We spoke with local Chabad rabbi, Rabbi Uriel Rivkin of the Young Israel of Tampa, and he confirmed that the restaurant DOES NOT have a Orthodox hashgacha. We also called into the restaurant and were not given a clear answer from the owner or manager as to what the "kosher" supervision actually is. It is not recommended to eat at this location until further notice.
UPDATE: We are currently looking into the hashgacha situation. Proceed with caution.
While Kosher caterers exist in this Western FL city, no kosher restaurant is around to feed observant families or business travelers to Tampa … until now.
Yummy Grill has just opened down the block from the USF campus in the University Mall, in the food court next to the Chik-Fil-A, becoming the first kosher restaurant in the Tampa area.
The restaurant is closed on Shabbat and has a local kosher hashgacha.
The Israeli/Mediterranean style menu includes falafels, salads, beef hot dogs, burgers, hummus, and shawarma.
The Israeli owner, Avi Levanon, hopes this could be the beginning of a franchised kosher restaurant chain.
View Larger Map