Contributed by: Linda Rosenberg Minkow | Last Date of Travel: November 2008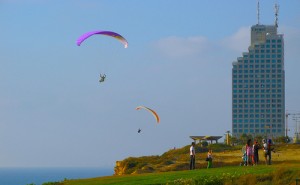 Kosher Info: Obviously, Israel abounds with kosher, delicious choices. All you have to do is make sure the restaurant has a Te'udat Kashrut (Kashrut Certificate) from the city's Bet Din. Some places go above and beyond that, getting a certificate for Kosher L'Mehadrin, meaning they are held to an even higher standard of kashrut. If you keep Chalav Yisrael, you'll still have to ask at dairy places and ice cream parlors, but be assured that in Israel, there is no problem with it being kosher milk.
If you're staying in the north side of Netanya, like we did, the place to go is Kikar Ha'atzmaut (Independence Square), a block off the beach (discussed below in Tourist Info). You can find any type of restaurant you would want there. Some restaurants have menus in Hebrew and English, others in Hebrew and French, still others in Hebrew and Russian. It's usually fairly easy to find someone who will understand you.
Since we were staying in an apartment rather than one of Netanya's famous hotels, we did a lot of cooking at home. However, here are some of my recommendations. My apologies for not having names for most of these places, we were always more interested in the menus and kashrut than branding.
As you enter Kikar Ha'atzmaut, there are a string of French/Moroccan grills. They are all very good and offer free, copious salads and pita or malawach with your meal. Be aware that in the Middle East, kebab does not refer to meat on a sharp stick but rather a spiced ground meat sausage without a casing, what American Israeli restaurants might call a kefta kebab.
Some pizza places serve American style pizza, but the best pizza we had in Israel was a small French-speaking restaurant at the first alley intersection in Kikar Ha'atzmaut. The menu is in French and Hebrew, but it's pretty easy to figure out. The salads are decent, the pasta dishes are much smaller than they appear on the menu, but the pizza is sold by the 1/4 meter and for a few shekels each, you can add any number of toppings. Toppings include mushrooms, onions, olives, pesto, Bulgarian cheese, feta cheese, fresh tomatoes and much, much more. My husband and I would frequently order a 1/2 meter for dinner with no sides and it was very hot, crunchy crust, extremely satisfying.
Across the Kikar from this pizza place is a very large, delicious ice cream parlor called Tony Ice. The flavors range from your standard vanilla, chocolate, mocha to flavor combinations of different candy bars and popular fruit mixes. They also sell small frozen petits fours made from their ice cream as well. They have an extensive choice of cones, ranging in three or four sizes, dipped in chocolate and some had nuts, sprinkles or more coated on top of the chocolate.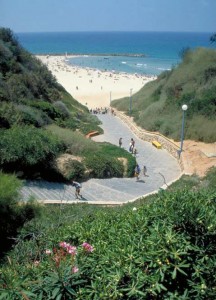 Diagonally across from Tony Ice, there is a small schwarma shop that is also very good.
Almost all these restaurants have outdoor seating in the middle of the Kikar, which is very good for people-watching. It's the social center of the north side of town. People are out walking around until late at night, kids playing, teenagers horsing around…it's a fun place to eat and try different places every time you go.
Kosher supermarkets, bakeries and butchers abound. Just make sure to check for the Teudah and/or a Hashgacha on the packaged item. Supermarkets get tricky, especially last year with Shmittah. It can be difficult to buy fruits and vegetables now, even after Shmittah is over, because it is hard to tell if they are selling Shmittah produce, Heter Mechirah , or post-Shmittah produce that is fine for use. We solved the problem by going to a very reliable supermarket on Herzog St. that serves the Sanzer community as well as the larger Netanya community. Everything in the supermarket, from produce to fresh-baked pastries to meats, is reliably kosher. A note about meat: some Sepharadi and Mizrachi Jews buy unsalted meat and salt it themselves according to their own diverse traditions so make sure the meat you buy says 'muchshar', meaning salted and ready to eat. There are also many, many prepared food products that are tasty and fairly reasonable in price.
Tourist Info: Netanya has some of Israel's most beautiful sunsets on the beach. Both the north and south sides of town have beaches. There are fantastic parks and playgrounds running along the cliffs that line the beach on the north side of town. There is even a section of the beach that has separate men's and women's hours for the Sanzer chasidim who live a few blocks away from the beach in their own neighborhood. However, despite the sign requesting no driving on Shabbat and modest clothing when passing through, this is no Mea She'arim. You can frequently see Sanzer children playing in the playground or skating areas with other children, Sanzer couples power-walking on the sidewalks near the beach and so on.
Netanya has a wonderful shuk behind the bus station, from which you can get buses around town, to Haifa, Ra'anana, Jerusalem and even Eilat. If you are going to Eilat from anywhere, though, book your tickets in advance or you may not get a seat on the bus. Trust us on this one, we've been there. Anyways, the bus to Jerusalem can take anywhere from 1.5 h to 2+ h, depending on how many people get on at each stop and traffic along the way. There are many buses from Netanya to Tel Aviv as well as sherut (taxi vans) that can fit about 10 people and cost only a little more than the bus, but stop less frequently. The drive from Netanya to Tel Aviv is about 30 minutes without traffic and stops, but takes longer when both are present. The bus from Netanya to Haifa taks about an hour without traffic and passes by some truly beautiful areas in the North. Haifa is highly recommended to tour around, as it contains the Baha'i gardens among other tourist attractions. North of Haifa is the Ghetto Freedom Fighters and Yad L'Yeladim museums of the Holocaust, as well as Rosh Hanikra, a beautiful cliff on the border with Lebanon that has famous underwater grottoes and the now-blown-up train tunnel to Lebanon used by the British pre-1948.
Netanya is full of hotels, both fancy and not. There is a very famous glass elevator than runs down to the beach from the cliffs behind the Carmel Netanya hotel. There are many activities offered on and around the beach, including surfing, kayaking, horseback riding, paragliding and boat trips. There are a few museums and lots of galleries in Netanya, including the Well House which tells the history of Netanya. There are plenty of tours that run around Netanya or from Netanya to other places. In addition, Netanya has one of the highest concentrations in the world of black/purple irises (see the second tour), which is a major attraction when they bloom in February and March.
Jewish Info: There are plenty of synagogues throughout Netanya. The closest English-speaking one to us was the Young Israel of Netanya. The regular crowd is usually 60+ plus they were very friendly and helpful to us during our stay, especially the Rabbi. A shul we heard about, but did not attend, is the New Synagogue of Netanya, also know as "McDonalds" because it is located on McDonalds St. The crowd here is younger but still English-speaking. These are the main places to go if you have questions about services, classes, mikvaot and other Jewish concerns.
There are multiple neighborhoods in Netanya, and all have a decent proportion of observant Jews from all backgrounds. This is a town full of the entire gamut of Judaism, from Ethiopians to Moroccans to Chasidim and, of course, olim from England, America, South Africa, Australia, France, Germany, Russia and everywhere else Jews live. It's a great place to be staying on a trip to Israel and we highly recommend it!