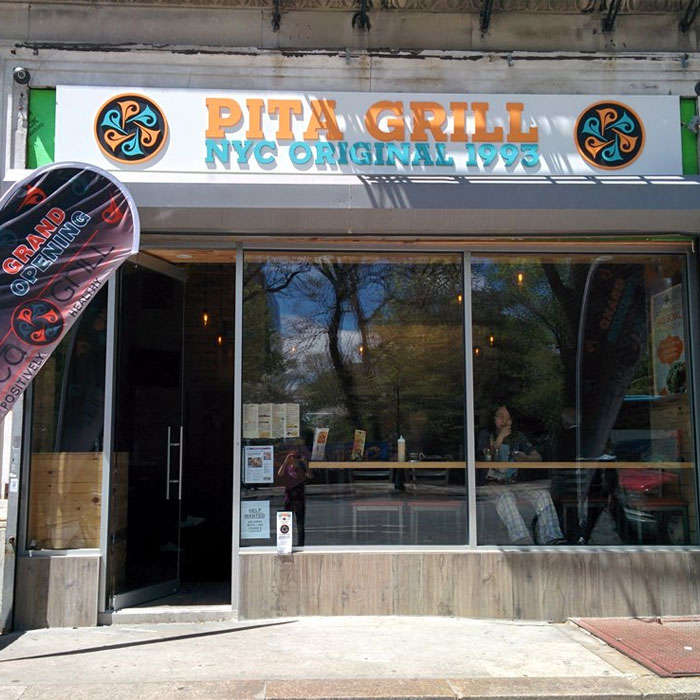 The Upper West Side in Manhattan has added another kosher restaurant. Pita Grill now joins the Midtown East location as the only kosher restaurants within its franchise. This new location is also not far from Columbia University / Barnard College.
Appetizers include crispy avocado — a spinach tortilla filled with guacamole, California hummus — with cilantro, jalapeños, and lime, and falafel. Salad items include grilled chicken caesar, sabich, and a pita grilled salad. Customers can build their own pitas with a variety of options. Stuff pitas with meatballs, chicken balls, schnitzel, Hawaiian chicken, shakshuka, and more.
Try a 'bowl'! Pita Grill has different types of rice bowls — the falafel bowl, santa fe rice bowl, and the famous rice bowl — for a fulfilling meal. ORDER NOW ONLINE
Fresh burgers and tacos are available as well with vegetarian options.
The 'gym plates' menu feature items that are high in protein but low in carbs. And for the people who prefer to live a little they have Nutella, brownies, cheesecake, and peanut butter chocolate fudge for dessert.
Hours of operation are Sunday-Thursday from 10am-10:45pm, Friday from 10am-4pm, and Saturday from 8pm-2am.
These 2 Pita Grill locations are certified Glatt kosher by the OU.