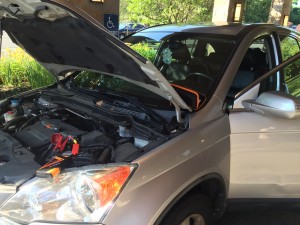 Everyone, at some point or another, does something dumb with their car. It doesn't have to be big, but something minor like leaving a door open, leaving a light on, leaving the hazard lights on overnight that left on for 8-10 hours can kill your car's battery.
I hate to admit it, but between my wife and I we've made 3 such errors in 2015 alone. In January, we debated too long the comparison of lowering springs and coilovers – and ended up procrastinating in purchasing either resulting in the holiday deals going away. In March, we had left an interior light on overnight which had killed the battery. Thankfully, that mistake was done in our own driveway so that wasn't a huge deal to fix.
However, over July 4th weekend I made an error I'm quite embarrassed about and got very lucky I had a quick fix to solve it (and that the car wasn't towed). After driving for 6+ hours (lots of pit stops and traffic), we finally arrived at our hotel around 11pm. I pulled the car up to the canopy near the hotel's entrance, grabbed the luggage cart, got the luggage, wife & kids up to the room, and went to bed, exhausted. In my haste, I left my car, hazard lights flashing, in front of the hotel all night long.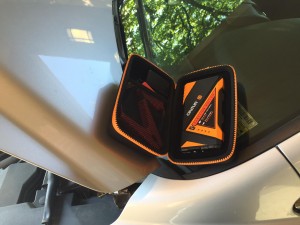 After waking the next morning I quickly realized that I hadn't moved the car and ran down to park it. One problem, the car battery was dead. I asked the front desk if they had someone who can help, and they did, but they didn't have any cables, and my trunk door can't be opened manually. I realized I had the Cyntur Jumperpack Mini in the trunk, but couldn't immediately access it. After climbing into the trunk over the car seats in the back, I was able to extract the Jumperpack and quickly went to work.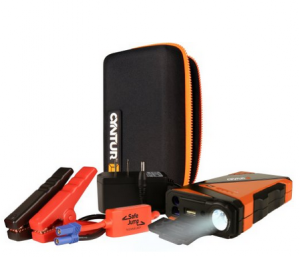 After quickly hooking up the jumper cables to the battery pack, the car was boosted instantaneously. This handheld battery had now served me twice this year, and still has at least 75% of a charge left in it to serve me for future purposes should I need it (according to its indicator).
The product is super simple to use and it just works. I've already used it twice this year instead of calling AAA, my car insurance, or a local tow company. I did it myself in a matter of 2 minutes. I love technology.
The Cyntur Jumperpack Mini also has a built in light and USB ports should you need an emergency backup battery to charge your phone or other devices. The product retails for $99.99-109.99 on Amazon.
For anyone going on road trips, or with a proclivity to leave lights on in their car overnight, I highly recommend this product. It's super rugged and anyone can use it.