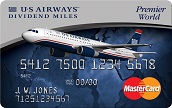 Since US Airways is merging with American Airlines, this card will eventually be converted into a American Airlines card, but that doesn't mean you shouldn't be taking advantage of this. In fact, US Airways & Barclaycard have added this limited time offer, and if approved for the US Airways Dividend Miles Mastercard, you'll receive:
50,000 Bonus Miles after first purchase

 (i.e. spending $1)
Companion pass good for 2 $99 round-trip flights within the US48/Canada with 1 $250+ round-trip flight purchase (will be sent upon card approval in 2014 and will be valid for a year)
First Checked Bag FREE for you and 4 travel companions (will include on American Airlines later in 2015)
Priority Boarding
Free American or USAirways lounge pass (will be sent upon card approval in 2014 and will be valid for a year)
Free FICO monthly score watch through Barclaycard
Double miles for purchases on USAirways and American flights
10% award rebate will start with the merger of American's AAdvantage program and USAirways' Dividend Miles program in Q2 2015 –> You'll get back 10% of the miles you redeem, up to 10k miles per year for as long as you're a cardholder
The miles on this will be converted into AAdvantage miles in 2015, so that's a pretty sweet deal. The card does have a $89 annual fee, which is definitely worth the 50,000 miles + other benefits. You and your spouse can apply for these separately for a combined 100k mile earning.
CLICK HERE TO APPLY NOW (30 second decision)
This limited time offer expires January 18th, 2015.
If you are rejected for this offer, many people have had success at getting your card approved by calling their reconsideration line at 1-866-408-4064.
Disclaimer: YeahThatsKosher may receive referral credit from qualified applications through the links on this site. Usage of our links helps support this site.