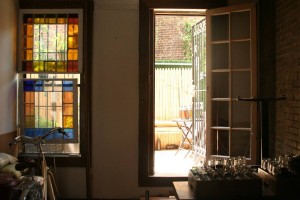 UPDATE: Location info added below.
Not long ago in the home of one Itta Werdiger Roth, Jews were enjoying freshly prepared artisan dishes by the hostess at her "Hester" events. It seems as though the Hester may becoming more of a nightly thing now with Roth's new kosher restaurant venture: Mason & Mug, set to open in the Prospect Heights section of Brooklyn, NY. Along with partner Sasha Chack, former Food & Beverage Director of 92YTribeca, the 2 will be opening a unique casual kosher restaurant serving vegetarian "small plates"; a global "street food" concept turned kosher by these culinary artists.
Their concept for small plates: inexpensive, fast, and fresh. Expect a constantly-changing menu of international fare paired with local, seasonally-sourced produce. They'll be stocking and selling house-made jams, pickles, and dips, as well as artisan breads and bagels.
Roth & Chack plan on serving local Brooklyn-made beer, kosher wines, and their own signature mixed drink cocktails.
I like to think of this concept as the Hester brought to life … in a permanent location.
They've recently launched an Indigogo campaign to help fund their restaurant launch, which they expect at some point by the end October or November 2013.
We'll be interviewing the founders shortly to collect more details. In the interim, here's a short video by the Mason & Mug founders explaining their new place:
Location: Former non-kosher restaurant Kimiya, currently under renovation.
View Larger Map