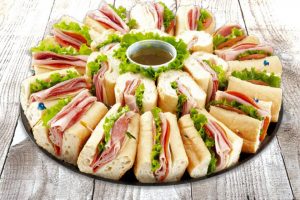 Simon and Joe's Eatery in Las Vegas has a new neighbor. Vegas Kosher Deli has opened next to the pizza shop, only a couple blocks from the Vegas Strip.
Diners can start their meal off with cole slaw, potato salad, cucumber salad, jalapeño corn salad, babaganoush, or matbucha.
Available as paninis, subs, or wraps are: tuna, bologna, salami, oven roasted turkey, Mexican turkey, chicken breast, hot corned beef, hot roast beef, turkey, and different specials. All bread is freshly baked, and there are 12 different sauces to choose from.
Customers can also order deli by the pound, platters, as well as online with a $15 delivery charge.
Hours of operation are Sunday-Thursday 11am-10pm, Friday 11am-4pm, Saturday 1 hour after Shabbat until 12am.
Vegas Kosher Deli is certified by the Vaad Hakashrut of Las Vegas.